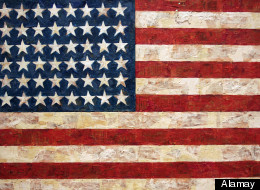 In honor of the 4th of July, we've put together a slideshow of the some of the most iconic images of American art. From Norman Rockwell to William H. Johnson to Dorothea Lange, we'd like to showcase several of the many amazing artworks that celebrate or depict hallmark pieces of US culture and history.
So in between barbecues and fireworks, check out this slideshow of great American imagery, and add some of your favorite works in the comments section below!
10 Iconic Works Of American Art
Artistic depictions of great American battles have become primary to US history, exemplified by "Washington Crossing the Deleware" (1851) by German American artist Emanuel Gottlieb Leutze. The painting commemorates the crossing of the Delaware River during the American Revolutionary War.

Jasper Johns used the most iconic American image to create his painted and collaged works, and today, his various interpretations of the flag -- like this piece aptly titled "Flag" (1954-55) -- remain unforgettable.

Art history buffs will never forget "Paul Revere" (1770) by John Singleton Copley, an American painter known for his portraits of important figures in colonial New England.

William Henry Johnson's folk style paintings, such as "Street Musicians" (1939-1940), are recognized as some of the greatest American artistic works of the 20th Century.

"Portrait of George Washington" (1796) by Gilbert Stuart is an unfinished portait of the first president that was later used to create numerous other paintings as well as the image on our $1 bill.

This portrait shows Florence Thompson, a woman who came to be known as the "Migrant Mother" made famous by Dorothea Lange's photograph from 1936 during the Dust Bowl.

Augusta Savage's works are iconic American sculpture pieces associated with the Harlem Renaissance. Her work is permanently housed at the Smithsonian American Art Museum.

Grant Wood's paintings of the American Midwest are all pretty iconic, but "American Gothic" (1930) is one of the most memorable American images of the 20th century.

Gordon Parks' "American Gothic" (1942), which is a portrait of a government cleaning woman named Ella Watson, has become nearly as famous as the Grant Wood painting it mimics.

Henry Ossawa Tanner is considered to be the first African American painter to gain international fame. His most famous work, "The Banjo Lesson" (1893), depicts a man tenderly teaching a young boy to play the instrument so vital to American culture.

Georgia O'Keefe painted aspects of the New Mexico landscape that became distinct art works depicting the beauty of the American Southwest.

Landscape painting was a primary genre of American art throughout the 19th and 20th centuries, typified by Thomas Cole's "The Oxbow (The Connecticut River near Northampton)" (1836).

George Wesley Bellows is most known for his striking depictions of urban life in New York City. His painting, "Both Members of This Club" (1909) was meant to bring attention to the elitist attitudes of private sports clubs in the US.

You could pick almost any of Norman Rockwell's various illustrations to include in this slideshow, all of which portray various facets of American culture. Here is Rockwell's famous triple self-portrait, but we can't forget his painting "The Problem We All Live With" (1964) that depicts Ruby Bridges, a six-year-old African American girl on her way to an all-white public school in New Orleans.

We'll end the slideshow with the newest iconic image to enter American culture -- contemporary graphic designer Shepard Fairey's "Hope" posters created for President Barack Obama's campaign.