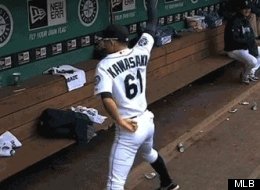 Move over Donald Driver, there may just be another athlete ready to steal the dancing spotlight. Seattle Mariners' shortstop Munenori Kawasaki was caught getting his groove on during a game against the Boston Red Sox last weekend.
Despite occupying last place in the AL West, Kawasaki's attitude looked pretty carefree in the Seattle dugout. Following an accomplished career in Japan, the veteran shortstop has only played 35 games and notched 12 hits for the Mariners since making his American debut on March 2nd.
However, along with Hisashi Iwakuma and Ichiro Suzuki, Monday night marked the first time in MLB history that three Japanese players filled the same starting lineup when the Mariners took on the Baltimore Orioles.
That alone is an accomplishment that may warrant some celebration.