Bay Bridge Shooting Causes Major Delays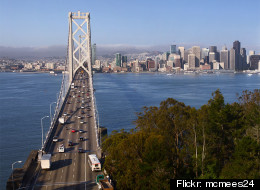 UPDATE: All lanes of the Bay Bridge are now open.
An early police chase and shooting reduced the lower deck of the Bay Bridge to one lane this morning, snarling traffic headed for the East Bay. Caltrans estimated that the lanes would not reopen until at least 10:30 a.m.
According to the San Francisco Chronicle, California Highway Patrol officers were in pursuit of a car when the driver stopped just past Yerba Buena Island and shots were fired. The Chronicle reported that it is still unclear if anyone was injured. Police then closed much of the lower deck while they investigated.
This morning's snarl was the second incident to significantly affect the morning commute in the past few weeks. On June 14, a four-alarm fire in West Oakland shut down transbay BART service entirely when it knocked out some electrical equipment. The fire was later ruled as arson and is still under investigation.