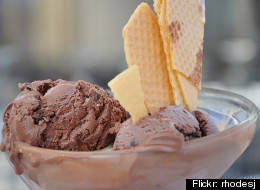 In the face of record-setting heat, Chicagoans can't be blamed for feeling pulled away from our bikini-body diets by cravings for cool, sweet treats.
And if you're looking for ice cream in Chicago, you might as well pass up the Edy's: the city and surrounding suburbs have a host of locally-based creameries churning out some of the freshest scoops and wildest flavors.
We rounded up some of the most beloved ice cream makers in the Chicago area. From mango-infused sorbet-hybrids to classic recipes that have gone untouched for decades, there's no reason to rely on the supermarket for your sweet, summertime fix.
Below are some of our favorite locally-based ice cream producers. Got a favorite we missed? Tell us about it in the comments:
Bobtail Ice Cream makes 19 flavors on-site at their East Lakeview soda shop with old-school charm. 2951 N. Broadway

Experimental ice cream-eater? You'll love the wide range of small-batch, house-made flavors at Shawn Michelle's Old Fashioned Ice Cream in Roseland, like "Banana Bread Pudding" and "Caribbean Sunbeam Supreme." 332 E. 95th St., Chicago

Family-owned and operated Capannari Ice Cream features 15 regular flavors, plus special rotating varieties of their gourmet, super-premium (containing at least 14 percent milk fat) ice cream. 10 S. Pine, Mt. Prospect

A Chicago staple since 1925, the creamery founded by Hans Petersen in 1919 still relies on his original recipes and the first shop's old-Chicago charm. 1100 Chicago Ave. Oak Park

Citywide purveyors of ice cream, chocolates and other indulgent sweets, Gayety's is run by the third generation descended from founder, James Papageorge. 3306 Ridge Road, Lansing

Made fresh every day by Chicago natives Mardi and Denny Moore, each bite of Scooter's Frozen Custard is rich, flavorful and full of love. The couple, who quit corporate jobs to make and sell their own ice cream, have had lines out the door since they first opened in June 2003. 1658 W. Belmont Ave., Chicago

With 32 flavors and candy-caked cones to serve them in, Scoops Ice Cream, owned and operated by the Impallaria family in Bridgeport, is sure to surprise even the most seasoned ice cream connoisseur. 608 W. 31st St., Chicago

Margie's Candies is a staple of the dessert category in Chicago -- and its ice cream does not disappoint. It has been continuously operating its (homemade!) ice cream parlor at its 1960 N. Western Ave. location since 1921. Margie's also has a second location at 1813 W. Montrose Ave. Feeling extra indulgent? Margie's even offers jumbo creations -- including the "World's Largest Sundae." Bring a friend -- or 10.

As if we could compile a list of Chicago's best ice cream without a nod to the champions. The Original Rainbow Cone, a pile-up of orange sherbet, pistachio, Palmer House, strawberry and chocolate ice cream, has been stacking the same high-quality flavors from its distinctive pink building for decades. 9233 S. Western Ave., Chicago
Flickr photo by rhodesj.