In 2006 it was recognized as a UNESCO World Heritage site, yet today the medieval crusader castle Crac Des Chevaliers in Syria's Homs province is at the center of intense fighting between pro-government troops and members of the Free Syrian Army.
Opposition fighters are desperately trying to prevent the army from getting a permanent hold on the fortress.
Fighting over the fortress is brutal. In a recent battle, 7 members of the Free Syrian Army lost their lives. An AFP crew filmed the men mere minutes before their deaths. AFP also filmed a young fighter, still a teenager, wailing over the lifeless body of his commander Ahmed. He dried his tears with one hand and held his gun in the other. "The people want the downfall of the regime," people cried at Ahmed's funeral later that day.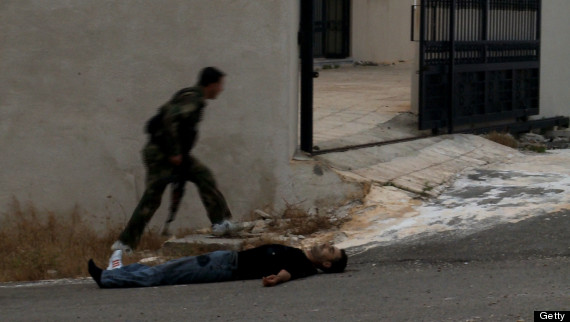 This image grab taken from AFP TV shows a Syrian rebel walking past the body of a comrade killed in fighting with government forces at the Crac des Chevaliers near the village of Azzara on the outskirts of the flashpoint city of Homs on June 28, 2012. (DJILALI BELAID/AFP/GettyImages)
Violence in Syria has reached 'unprecedented' levels, the head of the U.N. monitoring mission in the country said on Thursday. According to activists, 15,000 people have lost their lives since the start of the uprising in March 2011.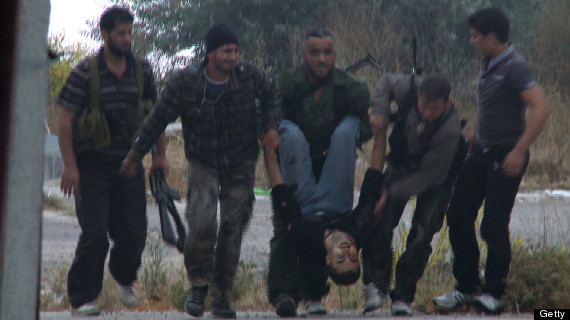 An image grab taken from AFP TV shows Syrian rebels evacuating the body of a comrade who was killed during fighting with government forces at the Crac des Chevaliers near the village of Azzara on the outskirts of the flashpoint city of Homs on June 28, 2012. (DJILALI BELAID/AFP/GettyImages)
SUBSCRIBE TO & FOLLOW WORLD POST