It took five years, but researchers at Griffith University in Australia have successfully taken a picture of the shadow of a single atom.
It is the first time an atom's shadow has been photographed, Erik Streed, a physics lecturer at the university and a member of the research team, wrote in a post on The Conversation, an Australian news and analysis site.
SCROLL DOWN FOR PHOTO
According to a statement from the university and Streed's blog post, the team was able to create the shadow by focusing a laser beam on an atom of the element ytterbium that was suspended in a chamber. The atom produced a shadow, which was then captured by a digital camera.
The university said its one-of-a-kind high-resolution microscope--the lens of which focuses light in a way similar to a lighthouse lens--was key in successfully capturing the shadow of the atom.
"By using the ultra hi-res microscope we were able to concentrate the image down to a smaller area than has been achieved before, creating a darker image which is easier to see," Dave Kielpinski, a professor at the Centre for Quantum Dynamics at Griffith University, said in a written statement.
Writing for Cosmos magazine, Renae Soppe noted that this development could eventually lead to safer methods for imaging living things.
"This is important if you want to look at very small and fragile biological samples such as DNA strands where exposure to too much UV light or X-rays will harm the material," Streed said in the written statement. "We can now predict how much light is needed to observe processes within cells, under optimum microscopy conditions, without crossing the threshold and destroying them."
It's been a big week in particle physics. On Wednesday, scientists at the European Center for Nuclear Research, or CERN, announced they had found a particle consistent with the Higgs boson.
LOOK: Shadow of ytterbium atom: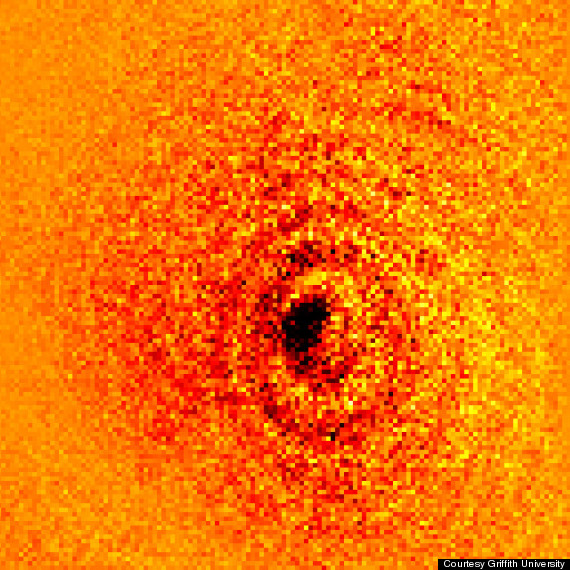 In this illustration, a ytterbium atom (blue) casts a shadow as it's passed by an orange laser beam: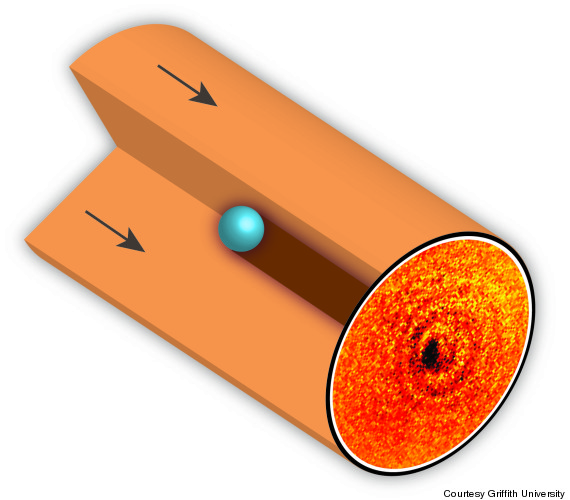 Also on HuffPost:
Loading Slideshow
Roswell UFO

After a "flying disk" crashed on a ranch in the New Mexico town of Roswell, rumors began to circle about possible extraterrestrial origins and a government cover-up. The Roswell Army Air Field (RAAF) public information officer in Roswell, New Mexico, issued a press release on July 8, 1947 about the event.

A Man And His Motorwagon

German engine designer Karl Benz (1844-1929) unveiled the first automobile on July 3, 1886 in Mannheim, Germany. The Benz Patent Motorwagon could reach a then-astonishing speed of 10 mph.

Newton's Laws

Sir Isaac Newton (1642-1727) published <em>Philosophiae Naturalis Principia Mathematica</em> on July 5, 1687. Translated as "Mathematical Principles of Natural Philosophy," this work became one of the most important texts in the history of science, in which Newton explained his laws of motion and universal gravitation.

Hot Air

Richard Branson and Per Lindstrand made aviation history on July 3, 1987 when they crossed the Atlantic Ocean in a hot air balloon. Their transatlantic flight took about 37 hours from Maine to Ireland--a distance of 3,075 miles.

Cable Across The Pacific

On July 3, 1903, the first telegraph cable across the Pacific was completed. The Commercial Pacific Cable Company connected Hawaii, Midway, Guam and Manila. President Theodore Roosevelt was the first to send a message across the cable, beginning a new era in international communication. He wished "a happy Independence Day to the U.S., its territories and properties . . ."

Boom!

On July 3, 1969, the Soviet N1 rocket exploded after stalling for 23 seconds on the launch pad, creating the biggest man-made non-nuclear explosion in history. The destruction was photographed by U.S. satellites.

Mars Arrival

NASA's Mars <em>Pathfinder</em> spacecraft landed on July 4, 1997 after a seven-month journey to the Red Planet. It dispatched the first remote-control interplanetary rover, which brought back photographs and data about the composition of Mars' surface. The lander was renamed the Carl Sagan Memorial Station.

Comet Collision

A NASA space probe collided with a comet on July 4, 2005. The probe, ejected by a larger spacecraft known as Deep Impact, was sent intentionally to crash into the comet 9P/Tempel. This allowed scientists to study the composition and surface of the comet close-up.

Happy Birthday, Dolly!

Dolly, the first cloned sheep, was born on July 5, 1996 at the Roslin Institute in Scotland. Dolly sparked a heated debate about cloning ethics, and led the way for larger animals like horses to be cloned. She was euthanized in 2003 after developing lung cancer. Her taxidermied remains are now on display at the National Museum of Scotland.

Rabies Vaccine

On July 6, 1885, French chemist and microbiologist Louis Pasteur tested his rabies vaccine on Joseph Meister, a young man who was in danger of contracting rabies after being bitten by a rabid dog. Meister recovered, and became the first of many to receive the groundbreaking vaccination.

Mysterious Disappearance

On July 2, 1937, Amelia Earhart, the first woman to fly solo across the Atlantic Ocean, disappeared while flying over the Pacific Ocean along with her navigator Frederick Noonan. Their attempted trip around the world was tragically cut short somewhere en route to its destination at Howland Island. Searches never turned up a conclusive trace of the two aviators.