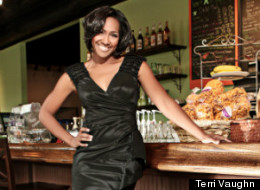 A sprawling metropolis, Atlanta is made up of different communities that each have their own distinctive personalities. From the high-octane energy of Mid-town; the glitz and glamour of Buckhead to the staid and conservative Cobb County, the city offers a multitude of neighborhood vibes that fit every lifestyle. As seen through the eyes of celebrity tour guides, like Jasmine Guy, who took us on a tour of the city's southwest side, BV Atlanta will take you on a tour of this amazing city.
For new Atlanta resident, actress Terri J. Vaughn, moving to the city was a natural transition that has fit in well with her life and career. The formerly LA-based actress, who is best known for her work on "The Steve Harvey Show" and "All of Us," decided to move to the city with her husband, pro-football player Karon Riley, after she discovered the tremendous quality of life the city could offer their family.
"I had always liked Atlanta and when more and more of my work started taking me there, it just made sense for me to make the move," she says. "My husband already owned a home here and also my business partner is here, so it worked well for all sides of my life. I am enjoying it and have found the opportunities here to be great for my work as an actress and businesswoman."
With a growing business that's based in the popular Buckhead neighborhood of the city, Terri took us on a tour of her favorite hotspots.
Black Voices Atlanta Spotlight: Buckhead
Owned by local radio personality Frank Ski, his restaurant/lounge has become the place to be and be seen in Atlanta. "The restaurant has a sizeable bar and a great, private backroom for meetings and events," offers Terri. "I always make a point of taking out of town guest there to show them the high life in Atlanta."

The Phipps Plaza personifies Buckheads high-gloss veneer. With it high-quality good and reputation for great customer service, the mall is home to high-end shops like Saks Fifth Avenue, Bally, Bottega Veneta and Michael Kors, among others, Terri finds the mall to be a great place for retail therapy. She says, "It's close and convenient and I when I go there, I always find what I need."

Known for its clever and seasonally-inspired, high-quality menu, Season 52 is where Terri and her family goes to enjoy a good meal. "The food there is really good; the portion sizes are just right and the calorie controlled menu is something that I absolutely love," Terri says.

Owned by uber hair stylist, Derek J., the J-Spot is the place to go for exquisite hair care in Atlanta. "Nicole [Ari Parker} turned me on to the place when I first moved here and after I met Derek, I feel in love," comments Terri. "I love the way he takes care of my hair and styles me. He's someone that I can depend on to make sure that my hair is always looking right."

Sugga's attracts a loyal and large celebrity following who come there for its inexpensive, but high-quality merchandise. The store's proprietor Tiphanie Watson then donates a portion of the proceeds to charity. Terri's says, "It's a great way to be fashionable and give-back at the same time."

"I love this place," says Terri about the salon that uses an innovative approach to hair waxing. "I discovered it about a year ago and have been going ever since."

Offering a great environment to create good synergy, The Green Room was opened by Terri a year ago after she noticed a void in Atlanta's growing Arts community. "I wanted a place where actors and other creative professionals could go to grow and learn their craft and also network and have a great time," she says about the facility, which offers regular workshops on acting and other entertainment industry disciplines.