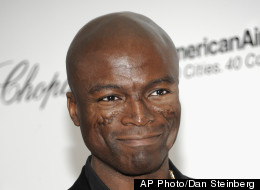 Seal may be divorcing Heidi Klum, but he certainly doesn't seem too glum about it.
In an interview with USA Today published Thursday, the 49-year-old singer opens up about his split from Klum, which the couple announced last January.
"There were people who were genuinely upset that what they thought was perfect was no longer," Seal said of his seven-year marriage to Klum. "I'm in an excellent place right now. In a situation like this, your priority is the children. As long as the children are happy, I'm happy." He and Klum have four children together.
Seal certainly looks happy in photos snapped of him and a mystery brunette earlier this week. In the photos, posted by TMZ Friday, the "Kissed By A Rose" singer is seen cozying up to an unnamed bikini-clad woman on a yacht in Italy.
But he isn't the first to be photographed with a reported rebound. In April, a smiling Klum was seen getting close with Thomas Hayo, a New York-based ad exec who also serves as a judge on "Germany's Next Top Model." They may have looked like an item in the photos, but the 39-year-old supermodel told German newspaper Bild am Sonntag earlier this month that Hayo "is not, nor was he ever, my boyfriend," adding, "I think he is a great guy, but not for me."
Click through the slideshow below to see photos of other surprising post-divorce rebounds.
Celebs' Post-Split Rebound Relationships
a) Jack Johnson b) Jason Mraz c) Damien Rice d) John Mayer

After separating from Nick Lachey in November 2005, Jessica Simpson began a 9-month relationship with musician John Mayer, which lasted from August 2006 to May 2007. In March 2010, Mayer gave a little too much information about his relationship with the pop star, telling Playboy that Simpson was like "sexual napalm" in bed. Simpson appeared on "The View" the following month and said that Mayer had apologized for the overshare, but added, "at this point it doesn't really matter. I mean, I only thought he was stupid for breaking up with me."

a) Tila Tequila b) Kat Von D c) Audrina Patridge d) Megan Massacre

After Jesse James' divorce from Sandra Bullock was finalized in June 2010, the "Outlaw Garage" star proposed to Kat Von D, the star of "LA Ink," in January 2011. The pair called off their seven-month engagement in July 2011, then reportedly reconciled a month later. But by September 2011, their on-and-off relationship was over. A month later,Von D posted a note on her Facebook calling their relationship "toxic" and alleging that James had cheated on her with 19 women in the course of a year.

a) Olivia de Havilland b) Joan Plowright c) Joan Crawford d) Angela Lansbury

In May 1960, "Gone with the Wind" star Vivien Leigh confirmed her split (via her agent) from Sir Laurence Oliver, her husband of 20 -- often tumultuous -- years. "Lady Olivier wishes to say that Sir Laurence has asked for a divorce in order to marry Miss Joan Plowright. She will naturally do whatever he wishes," the statement said. For his part, Olivier confirmed that he had left Leigh with the intentions of marrying the younger Joan Plowright, though he declined to comment further. "I do not think it would be a good idea to comment on the situation and I know that Joan doesn't want to say anything at all just now... You cannot expect her to," he reportedly said. "Anything that is said is liable to become twisted and involved."

a) Rose McGowan b) Zooey Deschanel c) Anna Paquin d) Evan Rachel Wood

In August 2007, Evan Rachel Wood told Elle UK that she was merely "movie buddies" with rocker Marilyn Manson -- then separated from wife Dita Von Teese -- until one night in December 2006 they "just suddenly looked into one another's eyes and knew." Still, sources told People magazine at the time that Manson's relationship with the Wood played a part in Von Teese's decision to file for divorce in December 2006. Manson and Wood became engaged in January 2010, but by August 2010 the pair had reportedly gone their separate ways.

a) Matthew McConaughey b) P. Diddy c) Matt Damon d) Ben Affleck

Jennifer Lopez and Ben Affleck -- aka Bennifer -- met on the set of "Gigli" in spring 2002 and allegedly started dating as Lopez's marriage to choreographer Cris Judd was deteriorating. In July 2002, Jennifer Lopez filed for divorce after 10 months of marriage to Judd. Lopez later confirmed her engagement to Affleck in a November 2002 interview with Diane Sawyer, flashing a $1.2 million, 6.1-carat pink diamond engagement ring. The pair called off their wedding in September 2003 and by January 2004 the media frenzy that was Bennifer was completely over, with Lopez's camp issuing a statement announcing the end of the couple's 18-month relationship. In her 2010 VH1 "Behind the Music" episode, Lopez said of the relationship: "I don't think I had ever been heartbroken in that way before -- had so many hopes and dreams on something."

a) Veronica Lake b) Lauren Bacall c) Rita Hayworth d) Marilyn Monroe

After finalizing his divorce from wife #2, Ava Gardner, in 1957, Frank Sinatra was briefly engaged to Lauren Bacall in 1958. (Bacall was recently widowed; husband Humphrey Bogart died the year before.) Days after news of the would-be Sinatra-Bacall union hit the headlines, the engagement was over. Later, Bacall would recall the shock of seeing the front-page stories: "I gasped -- oh my God, what a disaster -- how the hell did that happen?" Vanity Fair reported March 2011.

a) George Clooney b) Sean Penn c) Robert Downey, Jr. d) Gary Oldman

After splitting with Ryan Reynolds, her husband of two years, in December 2010, Scarlett Johanson reportedly "raised eyebrows" when she was spotted leaving the Sunset Tower Hotel with actor Sean Penn in February 2011. After a series of spottings together, the May-December pair took their romance public at a White House Correspondents' Dinner in April 2011. By June 2011, the couple had reportedly broken up. In the May 2012 issue of Vogue, Johnasson said she "never put a title" on her relationship with Penn and that she was surprised by the media attention the pair received. "In my marriage, funnily enough, we had relative privacy," she said, adding that she and Penn remain friends.

a) Stephen Jenkins b) Jakob Dylan c) Adam Duritz d) Dave Grohl

After her husband of a year-and-a-half, music executive Justin Siegel, filed for divorce in September 2009, actress Emmy Rossum dated Counting Crows frontman Adam Duritz. Rossum explained Duritz's appeal to People magazine in October 2009: "I get why chicks dig him... He's extremely kind, incredibly intelligent, thoughtful, creative and respectful." The pair reportedly broke up in fall 2010.