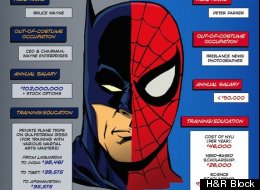 Usually, when it comes to pitting our favorite superheroes against each other, there's more emphasis on their fighting abilities than their bank accounts. After all, who has time to even calculate their anual earnings anyway?
Thankfully, H&R Block has done all of the math so that we don't have to. "The Amazing Spider-Man" may be crushing the box office, but poor Peter Parker can't even afford a share of Wayne Enterprises with that income.
Our only complaint is that this infographic might have been a tad more interesting if they compared Bruce Wayne's enterprise millions to Tony Stark's fortune. Somewhere atop Stark Tower, we bet Iron Man is having a good laugh at Wayne's chump change.
Take a look at the infographic below and tell us what you think of H&R Block's Superhero Economics in the comments.

'The Amazing Spider-Man' Merchandise
We can't think of a better outfit to snuggle up in while watching The Amazing Spider-Man in theaters! (We kid, we kid.) Snuggie Sleeved Blanket, $24.99, Superhero Stuff

Turn into a spider, fight crime, pass go, collect $200! We wonder if this is what Peter Parker and Mary Jane play on date night. Monopoly: Spider-Man Collector's Edition, $39.99, Alter-Ego Comics

Not quite ready to make your Spider-Man love permanent? Nylon tattoo sleeves are the next best thing. Nylon tattoo sleeves, $7.99, Superhero Stuff

Wake up just in time to nab the bad guys with this Spidey-themed alarm clock. Alarm clock, $18.99, Superhero Stuff

Whoa, talk about scary! We're not sure we'd want this in our house... Green Goblin Life Size Bust, $539.99, Alter-Ego Comics

Superheroes tend to wear their underwear on the outside. We'll let you decide how to wear these boxers. Spidey Head Boxers, $14.99, Superhero Stuff

Cook up a turbo-powered meal worthy of your favorite superhero with this Spider-Man-themed apron. Figure Cooking Apron, $25.99, Superhero Stuff

What better way to say thank you for all your new Spider-Man-themed gifts than with matching thank you notes? Thank you notes, $4.79, Spidey Shop

Typing up essays and lab reports suddenly just got way, way more entertaining. Wired USB Keyboard, $54.00, Superhero Stuff

Spruce up your room Spidey-style with three large wall appliqués of your favorite superhero in three action-packed poses. 3 large wall appliqués, $21.99, Spidey Shop

If you're brave enough to save the world, but still just a little bit afraid of the dark (or just really like Spider-Man merch), look no further! Night Light, $11.99, Superhero Stuff

Show off your super style with this bold belt buckle. Eyes Round Belt Buckle, $19.99, Superhero Stuff

Stay safe with this Spider-Man motif seatbelt, which can easily be installed in any car. Seatbelt, $24.99, Superhero Stuff

Aww, cute! FunKo Classic Spiderman Plushie, $9.70, Amazon

Look no further for your little brother's next birthday present! Splatter Lunchbox, $10.99, Superhero Stuff

Do you think Spider-Man -- or Peter Parker -- would make a good class president? Spiderman For Class President Sticker, $2.99, Superhero Stuff

Fido might not be welcome in theaters, but he can still get into the Spider-Man spirit, too!