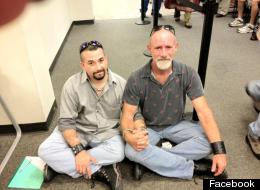 A Dallas-based gay couple has been arrested after protesting their state's ban on same-sex marriage after being denied a marriage license.
As the Associated Press is reporting, Mark "Major" Jiminez and Beau Chandler went to the Dallas clerk's office Wednesday afternoon to file for a marriage license they knew they wouldn't receive. After being denied, the pair handcuffed their arms together and sat down on the office floor at the front of the line of applicants.
"We live in a land where we're all supposed to be created equal, and by them denying us our marriage, we are not created equal," Jiminez is quoted by WFAA-TV as saying. The protest drew a slew of onlookers, many of them tipped off by a Facebook page created in advance of the event.
According to Dallas county court records, both men have been charged with criminal trespass, a class B misdemeanor, the Dallas Observer reports. They are due to appear in court Aug. 2.
Despite the arrest, Laura Martin, LGBT liaison officer for the Dallas Police Department, praised Chandler and Jiminez, though she could do little to further their cause. "They're the nicest couple," Martin told the Dallas Voice. "They're the first guys after any protest to come up and thank the officers."
Chandler also told the Voice that the idea for the protest came about after the couple got engaged this past spring. "[Jiminez] made breakfast and I was eating pancakes and found a ring inside," he gushed. "He asked if I would be his husband."
Though the couple has considered traveling to another state to tie the knot, they eventually decided there was little reason given that their marriage would be considered void at home. "We spoke to our friend Daniel [Cates] with GetEQUAL, and he suggested we make a statement," Chandler said. "And we decided it needed to be the day after Independence Day."
Gay Marriage In The United States
Since November 12, 2008

Gay marriage law enacted, weddings to begin July 1.

Since April 3, 2009

In 2012, Maine voted in favor of a ballot amendment to legalize gay marriage.

The gay marriage bill was signed into law by Gov. Martin O'Malley (D) on March 1, 2012. Opponents later gathered enough signatures to force the issue back onto the ballot in November 2012, but voters rejected the effort against gay marriage.

Since May 17, 2004

Same-sex marriage bill signed into law in May. Gay marriages will begin in August.

Since January 1, 2010

Since July 24, 2011

Bill passed in May. Law takes effect on August 1, 2013.

Since September 1, 2009

On February 13, 2012, Gov. Christine Gregoire (D) signed a law allowing same-sex marriage ceremonies to begin on June 7, 2012. The process was delayed by gay marriage opponents who gathered enough signatures to put the issue up to a state vote in November 2012. They voted to approve it on Election Day.

Since March 9, 2010

The state initially began conducting gay marriages on June 16, 2008. On November 5, 2008, however, California voters passed Proposition 8, which amended the state's constitution to declare marriage as only between a man and a woman. In 2013, the Supreme Court ruled against that law, and the state shortly thereafter began sanctioning same-sex nuptials.