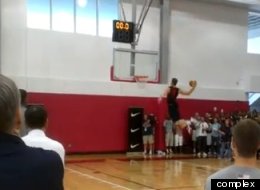 By Jose Martinez, Complex Sports

Yesterday, the final roster for the United States men's basketball team was announced and one pick that got us excited to watch the upcoming games was Blake Griffin.
The guy is a posterization machine and we cannot wait to see a possible Vince Carter-on-Frederic Weis, version 2.0 but until then, we'll settle for checking out the amazing dunks he pulled off during a recent Team USA practice.
The first one is an alley-oop thrown down after tossing the ball off the wall of the gym while the other is an homage to Isaiah Rider's "East Bay Funk" dunk with a little help from the backboard.
Enjoy.