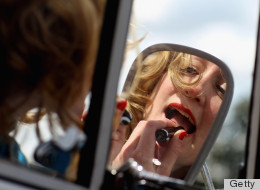 For many women, makeup is like armor -- it makes them feel protected, safe and fortified against the world. In fact a U.K. study discovered that two out of three women found going to work sans makeup more stressful than public speaking, going on a first date or enduring a job interview.
The same can be said about Francine Siddaway, who liked to wear dramatic, Cleopatra-style makeup to work. But Siddaway was fired from her cleaning job, allegedly for going overboard with the maquillage.
According to the Daily Mail, the 28-year-old was sacked by Addenbrooke's Hospital in Cambridge, England, after her bosses suddenly asked her a "toning down or removal" of her makeup. Siddaway had worked at the hospital for over three years, yet was let go due to her violation of the workplace's dress code policy.
A spokesman for Addenbrooke's told the Daily Mail: "All staff sign a form to acknowledge receipt of the Cambridge University Hospital NHS Foundation Trust uniform policy and dress code for employees and that they agree to abide by the code."
But Siddaway claims she's being treated unfairly. According to the Mirror, she said, "I feel comfortable with my make-up and I can't see how it could hamper my work or cause any health and safety problems."
See photos of Siddaway's unconventional makeup at DailyMail.co.uk -- do you think it's too extreme for the workplace?
See a few instance of makeup gone wrong:
Christina had a very unflattering moment when her spray tan dripped right down her leg during her performance at Etta James' funeral. (Getty photo)

No, Lindsay doesn't have bruises on her cheeks, that's just some dark (purplish) bronzer that's making her look a little beat up. (WireImage photo)

Cameron usually looks young and fresh but her face covered in white powder makes her look old and scary. (Getty photo)

Nicole looks as if she ate a powdered donut before hitting the red carpet. The starlet's nose and cheeks are covered in white powder! (WireImage photo)

We love Leighton but we do not love her overdone eye makeup, lipstick and blush, that are making her look like she's giving an ode to the comic book character, the Joker. (WireImage photo)

Catherine's overdone shimmery makeup makes her look more dirty than sun-kissed. (Getty photo)

Uhm, we think it's a problem when your eyeliner is darker than your eyebrows. Don't you? (Getty photo)

Sienna looks like she may have eaten too many carrots. Either that or her bronzer is simply making her skin look orange. (WireImage photo)

How did this even happen? Drew's usually flawless face was completely hidden by excessive white powder. (Getty photo)
Want more? Be sure to check out HuffPost Style on Twitter, Facebook, Tumblr and Pinterest.