Happy anniversary, Roswell, N.M. It was 65 years ago today that the Roswell Daily Record blasted an infamous headline claiming local military officials had captured a flying saucer on a nearby ranch. And now, a former CIA agent says it really happened.
"It was not a damn weather balloon -- it was what it was billed when people first reported it," said Chase Brandon, a 35-year CIA veteran. "It was a craft that clearly did not come from this planet, it crashed and I don't doubt for a second that the use of the word 'remains' and 'cadavers' was exactly what people were talking about."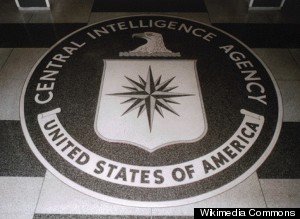 Brandon served as an undercover, covert operations officer in the agency's Clandestine Service for 25 years, where he was assigned missions in international terrorism, counterinsurgency, global narcotics trafficking and weapons smuggling. He spent his final 10 years of CIA service on the director's staff as the agency's first official liaison to the entertainment and publication industries. It was during this time, in the mid-1990s, that he walked into a special section of CIA headquarters in Langley, Va., called the Historical Intelligence Collection.
"It was a vaulted area and not everybody could get in it," Brandon told The Huffington Post. "One day, I was looking around in there and reading some of the titles that were mostly hand-scribbled summations of what was in the boxes. And there was one box that really caught my eye. It had one word on it: Roswell.
"I took the box down, lifted the lid up, rummaged around inside it, put the box back on the shelf and said, 'My god, it really happened!'"
What exactly did the box contain that had such a powerful impact on Brandon?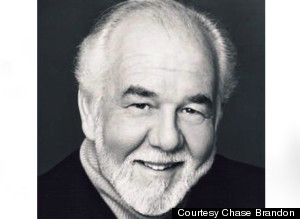 "Some written material and some photographs, and that's all I will ever say to anybody about the contents of that box," he said. "But it absolutely, for me, was the single validating moment that everything I had believed, and knew that so many other people believed had happened, truly was what occurred,"
None of this comes as a surprise to Stanton T. Friedman, a nuclear-physicist-turned-UFOlogist, who was the original civilian investigator of the Roswell UFO incident.
In the late 1970s, Friedman began to uncover former military eyewitnesses who had been involved with the original events that took place at Roswell in 1947.
Despite the fact that the military changed its story overnight, saying on July 8, 1947 that a flying disk had been captured but claiming on July 9 that a weather balloon had been recovered, Friedman's early investigative efforts prompted many Roswell witnesses to come forward and tell their stories. Numerous researchers have dug up more facts in the years since.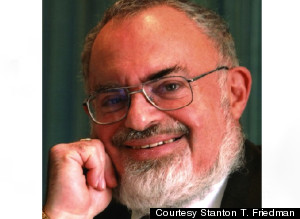 "It's been 65 years since things took place at Roswell," Friedman told HuffPost. "How much more widely known could it be -- everywhere I've spoken in the world, they ask about Roswell."
"What we really need now is the Woodward-Bernstein of the UFO world to bring out the disclosure," said Friedman. "Maybe Chase Brandon is a foresight of something going on.
"It's time for the retirement of the mythical part -- where we don't have all the pieces -- to be replaced by the true story of what happened, all the details, and we certainly don't have them."
Watch this video from a 1989 episode of 'Unsolved Mysteries UFO Files: Roswell.'
Brandon is currently promoting his book, "The Cryptos Conundrum," a science fiction story about the history of Earth, contact with extraterrestrials and imagined cataclysmic events on our planet.
He remains steadfast about the pieces of the Roswell puzzle he's willing to share, and he emphasizes there's no internal CIA policy that prevents him from revealing any details of what he saw in that box at the agency headquarters.
"Nobody tells any of us that we can't say anything about sources, methods, classified information having to do with working for the Central Intelligence Agency," Brandon said. "We all sign a secrecy agreement that says we understand we are forbidden to do that by law, and that is an inherent part of keeping and safeguarding what we do, how we do it, why we do it, out of national security concerns.
"I'm not reluctant to talk about it -- I won't talk about it. I'm telling you there was a box that had stuff in there having to do with Roswell, and I looked through it, and it validated everything I believed in, and that's all I have to say about it. I will go to my grave being mindful of the two hats that I wear: My personal one and the one that will forever reside on my head as a former CIA officer."
Loading Slideshow
UFO Over Mojave Desert Sept. 9, 1985

This cigar-shaped UFO was photographed by general aviation pilot David Hastings as he piloted a Cessna Skymaster plane over the Mojave Desert on Sept. 9, 1985. There has never been an indication of hoax in this case, which remains unexplained to this day.

UFO Over Holloman Base

An unidentified flying object was photographed by a government employee over the Holloman Air Development Center in New Mexico in 1964. Conspiracy theorists have claimed the photo is proof that the U.S. government has been in contact with aliens.

Strange objects over France

While descending an Austrian mountain in 1954, photographer Erich Kaiser captured an image of what he called mysterious silvery-white flying objects.

Mexican Air Force Pilots Video

Mexican Air Force pilots filmed strange, brightly lit objects that moved quickly in the skies on March 5, 2004. Some scientists said the phenomenon could have been caused by gases in the atmosphere.

Roswell

America's most infamous UFO case centers in Roswell, N.M. Some people claimed an alien spacecraft crashed there in 1947; the military said it was a weather balloon.

Roswell dummies

The Air Force issued "The Roswell Report" in 1997. Countering claims that aliens were recovered at the New Mexico site, the report said military officials picked up 200-pound dummies, above, that were used in an experiment.

Alien in Brazil

Video grab close up. What looks like an alien creature with visible head, neck, arms and body standing in the Brazilian rainforest in Manaus, Brazil. In this Amaz-alien footage, a lone unidentified being appears to stand in the jungle of Brazil -- even arching its back -- just feet away from a bright flashing blue light. In what some allege as proof that Earth is being visited by aliens from another planet, the video was obtained by paranormal writer Mike Cohen who says the video was taken by two British tourists visiting the Manaus region of the Amazon jungle.

Crop Circle in Yogyakarta, Indonesia

A large circle and geometric pattern local residents say were created by a UFO appeared in a rice field in Krasakan hamlet in Sleman, Yogyakarta, on the morning of Jan. 23, 2011.

Stan Romanek film

Stan Romanek claimed that this still image from a three-minute video he shot in 2003 shows an alien looking into his home in Nebraska. In the film, a strange face appears to be popping up and down outside Romanek's window.

Sketch of UFO sighting

This eyewitness drawing of an alleged UFO sighting is in one of 19 once-secret files posted to the British National Archives website. The files cover sightings reported between 1986 and 1992. Although many of the reports were debunked, some remain unexplained.

France field markings

An investigator in 1989 measures markings that some said were left behind by a UFO in Normandy, France. France began releasing its "X-Files" on UFO sightings in 2007.

President Jimmy Carter

President Jimmy Carter, shown here in 1971, reported that he saw a UFO above Leary, Ga., in 1969. He filed a report about the sighting to the International UFO Bureau in 1973.

Astronaut Gordon Cooper

Astronaut Gordon Cooper, who piloted Mercury and Gemini space missions in the 1960s, once said he saw a "typical saucer shape, double-cylindrical shape, metallic" UFO. He was also outspoken on the idea that some UFOs were interplanetary vehicles visiting Earth.