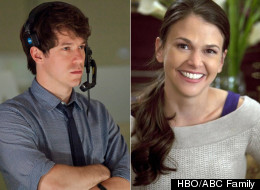 Broadway has some major competition for its acting talent: The small screen. Increasingly, stage actors are landing roles on TV.
Known for their hilarious lead roles in the 2011 hit Broadway show "The Book Of Mormon," Andrew Rannells and Josh Gad are making splashes in the TV world on "Girls," "The New Normal" and "1600 Penn." Meanwhile, "Anything Goes" stars Kelly Bishop and Sutton Foster are both starring on ABC Family's "Bunheads."
On HBO, Aaron Sorkin's "The Newsroom" is overflowing with stage actors, which is no coincidence, according to John Gallagher Jr. "Aaron's scenes unravel like a play, and I don't think it's any coincidence that the majority of the actors in the show have backgrounds in theater," he told Elle. "It's nice to have that muscle stretched when we tackle his material."
Click through the slideshow below to see 13 Broadway stars who have taken their talents to TV.
He currently appears as the unlikable Don Keefer on "The Newsroom," but Thomas Sadoski is mainly known for his stage career. Sadoski made his Broadway debut in 2004's "Reckless," and most recently appeared in 2011's "House Of Blue Leaves" and "Other Desert Cities."

Now in HBO's "The Newsroom," Gallagher's original home was on the stage. He originated the role of Moritz Stiefel in "Spring Awakening" and starred in "American Idiot" and "Jerusalem."

Known for her role as the attention-seeking actress Jenna Maroney on NBC's "30 Rock," Krakowski has also appeared in Broadway productions of "Starlight Express" and "Once Upon A Mattress." She won a Tony in 2003 for her portrayal of Carla in "Nine."

Marnie's (Allison William) way-too-sweet ex-boyfriend Charlie has also had a sweet stage career. Christopher Abbott appeared in 2011 revival of "House Of Blue Leaves" with Edie Falco and Ben Stiller.

She plays the tough-as-nails Diane Lockhart on CBS's "The Good Wife," but Christine Baranski has also made the rounds on New York City stage. Baranski made her Broadway debut in "Hide & Seek" in 1980.

Anne Heche is returning to TV as Beth Harper, a woman who believes she's channeling God, on NBC's "Save Me," but Heche is also known for her stage career and memorable role in "Proof" in 2002.

He's nabbed starring roles in "Hairspray" and "Book Of Mormon" on Broadway, and now Andrew Rannells is making his mark on the TV world. In addition to playing Hannah's ex-boyfriend on HBO's "Girls," Rannells will be starring on the NBC comedy "The New Normal" in the fall.