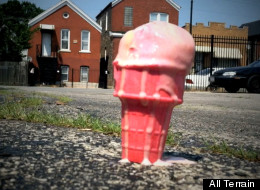 After how hot it got last week, a lot of Chicagoans were probably feeling a bit like a wet wicked witch.
And with that puddle-like feeling still fresh in the city's collective memory, many can probably relate to the melting ice cream cone featured in a new time-lapse video uploaded last week by All Terrain, a Chicago-based experiential marketing agency.
In Chicago's humid, 100-degree conditions, how long do you think it took an ice cream cone to melt while sitting on a slab of hot concrete? The answer might surprise you.
If this video got you in the mood for some of the pre-melted good stuff, our recent picks for Chicago's best locally-made ice cream should serve you well.