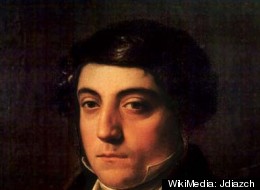 KATONAH, N.Y. -- An Italian opera composer who was a budding genius at age 19 and a Polish contralto who remains a vocal phenomenon at age 60 teamed up for an intriguing musical excavation at the Caramoor Music Festival.
The occasion was the first-ever U.S. performance Saturday night of "Ciro in Babilonia," one of six operas by the prolific Gioachino Rossini that premiered in 1812.
Starring in the title role of Cyrus the Great, king of Persia, was Ewa Podles, a veteran of many such "trousers roles" that composers used to write for lower-voiced female singers to portray male characters.
And Podles is as low-voiced as they come. At the very bottom of her range, well below middle C, the notes ring out with a visceral punch that dares a listener not to sit up and take notice. She can also belt out prodigious high notes and rattle off the runs and other rapid passage work for which Rossinian "bel canto" singing is known.
True the shift in gears as she moves from one part of her voice to another is more noticeable than in her prime, and she has lost some power. But she remains a singer of prodigious gifts, and it's a shame she has been so seldom heard in the New York vocal scene, with only two engagements at the Metropolitan Opera over nearly 30 years.
The opera recounts a version of the Old Testament story of Cyrus' triumph over Belshazzar and the Babylonians. The libretto by Francesco Aventi is uninspired and one can understand why director Davide Livermore decided to treat it somewhat tongue-in-cheek. Using video projections by Paolo Cucco, he has the singers moving around an essentially bare stage while a silent movie plays on a screen behind them.
Flickering images flash at the appropriate moment, from ancient warriors running furiously in battle to the inside of Belshazzar's palace or the desert outside the city walls. Occasional captions give a sense of the plot, rather than translating every line of text. The concept works well for about half the evening but eventually becomes repetitious and tiresome.
For this one-night-only U.S. premiere, Will Crutchfield, who is director of opera at Caramoor and also conducted the Orchestra of St. Luke's, painstakingly assembled an uncut version of the score that ran more than three hours with one intermission. While historically valuable, it proved a mixed blessing for the audience, especially in Act 2, when the plot grinds to a standstill and interest flags.
But there are gems in the score and hints of the flowering of Rossini's genius soon to come. Particularly lovely is the second-act duet for Ciro and his wife, Amira, in which their voices blend in harmony and move up and down the scale, anticipating Rossini's own "Semiramide" and Bellini's "Norma."
As Baldassare (Belshazzar), tenor Michael Spyres impressed mightily with his technique, stamina and ringing high notes, especially in his "mad scene" after he has seen the writing on the wall foretelling his demise. Unfortunately, his way of impersonating a villain was to smirk a lot and slap the other singers around. Podles, by contrast, maintained a stoic dignity throughout the night, conveying her character's nobility with a minimum of gestures.
As Amira, soprano Jessica Pratt had some intonation problems, but she excelled when she ascended into the Queen-of-the-Night-like stratosphere or caressed her phrases quietly. Baritone Scott Bearden was reliable as always as Baldassare's henchman Zambri, and tenor Eric Barry lavished pleasing tone on the small role of Arbace, a well-meaning Babylonian captain.
The production is a collaboration with the Rossini Opera Festival in the composer's hometown of Pesaro, Italy, where it will play for five performances in August with the same lead singers.