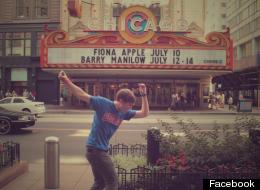 Wacky public-dancer Preston Leatherman is at it again, this time bringing his brave brand of shamelessness to Chicago's streets.
The musician and entertainer has launched a series of YouTube videos where he is "Dancing With an iPod in Public," most often in malls. But his most recent iteration included stops at Cloudgate, on State Street, in Millenium Park's fountains and more.
The Nashville resident and aspiring recording artist first earned attention with a Christmas-centric video on the same theme, which was promoted by Mariah Carey on Twitter. (Leatherman was dancing to the songstress's holiday classic, "All I Want For Christmas Is You.")
Would you be brave enough to boogie sans soundtrack in the Loop? Did you catch a glimpse of this stunt in action? Tell us in the comments.