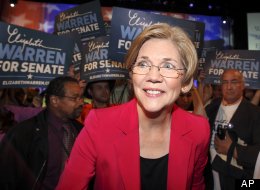 It's still looking good for Elizabeth Warren's fundraising prowess. The Massachusetts Democrat aiming to oust Sen. Scott Brown (R-Mass.) raised $8.67 million in the past three months, her most successful quarter so far, the Warren campaign announced Monday.
The race between Warren and the moderate conservative is close, with a recent Boston Globe poll finding only a two-percentage point margin favoring Brown.
Warren far outraised Brown in the first quarter of 2012, bringing in $6.9 million to her opponent's $3.4 million. She also outraised him in the fourth quarter of 2011, when her campaign received $5.7 million, while Brown raised $3.2 million. Brown's numbers for the second quarter of 2012 have not yet been released.
The Warren campaign touted in a press release its "surge in grassroots donations." Most donations -- 81 percent -- gave $50 or less, with more than half of those at $25 or less.
Each campaign has emphasized the support in fundraising from within Massachusetts, particularly given the national interest in a challenge by a progressive against Brown. The Warren campaign announced that more than 40,500 Massachusetts residents have donated to her bid for Senate.
Warren's campaign also hinted that donations to her bid may be on the upswing: June was her most successful month to date, bringing in $3.1 million. Her campaign now has $13.5 million cash on hand.
The Women Running for Senate in 2012
Sen. Maria Cantwell (D-Wash.) was elected to the Senate in 2001, and she serves as chair of both the Senate Subcommittee on Aviation Operations, Safety and Security, and the Senate Subcommittee on Energy. She is also a member of the Senate Committee on Finance, the Committee on Indian Affairs and the Committee on Small Business and Entrepreneurship. Cantwell is a strong supporter of abortion rights, having voted against the 2003 Partial-Birth Abortion Act and the Unborn Victims of Violence Act in 2004. She is also an advocate for environmental protection and has voted against oil drilling in Alaska's Arctic National Wildlife Refuge several times. Cantwell is a strong advocate for civil liberties, and she was one of just 13 Democrats to vote against the reauthorization of the Patriot Act. Following her defeat by Republican Rick White in the 1994 House of Representatives election, Cantwell joined the private sector, becoming the senior vice president of RealNetworks. In 2000, Cantwell was elected to the Senate and became one of the first two women to defeat incumbent senators, alongside Sen. Debbie Stabenow (D-Mich.).

Sen. Dianne Feinstein (D-Calif.) was elected to the Senate in 1992. Before that, she served as the 38th mayor of San Francisco from 1978 to 1988 and was elected the first female president of the San Francisco Board of Supervisors. Feinstein chairs both the Senate Committee on Intelligence and the Senate Subcommittee on Energy and Water. She is also a member of the Senate Committee on the Judiciary and the Committee on Rules and Administration. She was the first woman to serve on the Senate Judiciary Committee. Feinstein was the original Democratic co-sponsor of the bill that extended the Patriot Act, saying in 2005, "I believe the Patriot Act is vital to the protection of the American people and I question why the President is opposing a three-month extension while efforts are underway to reach a consensus on two problematic provisions." Feinstein is currently the lead sponsor of the Respect for Marriage Act, which would repeal the federal Defense of Marriage Act that defines marriage as being between one man and one woman. "My own belief is that when two people love each other and enter the contract of marriage, the federal government should honor that," she said in a statement. "I opposed the Defense of Marriage Act in 1996. It was the wrong law then; it is the wrong law now; and it should be repealed."

Sen. Kirsten Gillibrand (D-N.Y.) assumed office in 2009, appointed by then-Gov. David Paterson (D) to replace Hillary Clinton, who joined the Obama administration as Secretary of State. Before that, Gillibrand was twice elected to the House in a district in upstate New York. She has since served on the Senate Committees on Agriculture, Nutrition and Forestry; Armed Services; Environment and Public Works and Foreign Relations. The pro-choice senator is a strong advocate for government transparency and well-known for championing the repeal of Don't Ask, Don't Tell. In late October, she announced that she would be introducing the Every Child Deserves a Family Act in the Senate, a measure that would allow same-sex couples to become foster or adoptive parents. As part of her reelection campaign, Gilliband has launched Off the Sidelines, a project aimed at getting women more involved in their communities. "When women are part of the negotiation and are part of decision-making, the outcomes are just better," Gillibrand told The Huffington Post.

Sen. Amy Klobuchar (D-Minn.) became the first woman elected to the Senate from Minnesota when she won her campaign in 2006. She serves as chairwoman of the Senate Subcommittee on Competitiveness, Innovation and Export Promotion and is a member of the Committees on Agriculture, Nutrition and Forestry; Commerce, Science and Transportation, as well as the Judiciary Committee. Prior to being elected to the Senate, Klobuchar was a partner at two law firms until 1998, when she was elected as the chief prosecutor in Hennepin County, Minnesota's largest. She served in that role from 1999-2007, during which she was named Attorney of the Year by the Minnesota Lawyer. In the Senate, Klobuchar is a strong supporter of Planned Parenthood and has opposed measures that would cut federal funding for the family planning organization. In 2007, The Washington Post called her "a leading proponent of efforts to combat climate change."

Sen. Claire McCaskill (D-Mo.) was the first woman elected to the Senate from Missouri in 2006. From 1983-1988, she was a member of the Missouri House of Representatives. She is the chair of the Senate Ad Hoc Subcommittee on Contracting Oversight as well as a member of the Senate Committees on Armed Services; Commerce, Science, and Transportation; Homeland Security and Governmental Affairs and Special Committee on Aging. McCaskill is an avid user of social media and is currently the second-most followed member of Congress on Twitter. McCaskill has been one of Congress' top watchdogs on wartime contracts, calling for greater administration scrutiny of taxpayer dollars being spent in Iraq and Afghanistan. She is currently crafting legislation that would reform wartime contracting, after a report came out showing that $60 billion in taxpayer dollars had been lost in Iraq and Afghanistan on private contractors. The senator is a strong supporter of women's rights to abortion access, and she criticized the GOP's attempts to defund Planned Parenthood in an interview with The Huffington Post. "One of the reasons I was proud to lock arms with the other women Democratic senators to stop what they were trying to do to Planned Parenthood is that it doesn't even make sense in terms of their agenda," she said. "If you want to prevent abortions, why in the world would you cut off giving birth control to young women? It's just nonsensical to think we're going to reduce abortions by making it so that young college women can't access Planned Parenthood services for gynecological exams and birth control services."

Sen. Debbie Stabenow (D-Mich.) was elected to Senate in 2000. Previously, she represented Michigan as a member of the House of Representatives from 1997-2001. She was also the first woman to preside over the Michigan state House. She is now one of two women in the Senate Democratic leadership, serving as the vice chair of the Senate Democratic Policy and Communications Center. In 2000, she and Sen. Maria Cantwell (D-Wash.) were the first women in history to defeat sitting Senate incumbents. She chairs the Senate Committee on Agriculture, Nutrition, and Forestry. She is also a member of the Senate Committees on Budget; Energy and National Resources; and Finance. Stabenow was a strong supporter of health care reform. During the debate in 2009, she had a brief -- but memorable -- exchange with Sen. Jon Kyl (R-Ariz) about the need for maternity care coverage in health insurance plans. "I don't need maternity care, and so requiring that to be in my insurance policy is something that I don't need and will make the policy more expensive," argued Kyl during a Senate Finance Committee in September 2009. "I think your mom probably did," shot back Stabenow. "This was just a snapshot of the differences in perspectives and the importance of having women at the table," Stabenow told The Huffington Post.

Rep. Tammy Baldwin (D-Wis.) was elected to Congress in 1998, making her the first woman in the Wisconsin delegation. If elected to the Senate in the open seat being vacated by Sen. Herb Kohl (D), she would be the first woman in the state to serve in the upper chamber. Baldwin is a member of the House Committee on Energy and Commerce and a strong supporter of the Violence Against Women Act. In a 2011 National Journal survey, she tied for first place in a ranking of most liberal members of the House. In her Senate campaign announcement, she promised to focus on the "fight to grow our economy, protect seniors, force Wall Street to clean up its act, and bring our troops home from Afghanistan." She told The Huffington Post that the 2012 elections will be a "women's battle." "Women in families oftentimes are making the family budgetary decisions, health care decisions. Women are at the forefront, and certainly, in this election, during this economic downturn, women are disproportionately impacted," she said. Baldwin is also the only openly gay woman in Congress and if elected, she would be the first openly gay woman in the Senate. The Human Rights Campaign has called her candidacy "monumental for both the state of Wisconsin and the country's LGBT community."

Rep. Shelley Berkley (D-Nev.), currently in her seventh term in Congress, could be the first female U.S. senator from Nevada. In the first six months of 2011, she raised more money for her campaign than her opponent, incumbent Sen. Dean Heller (R-Nev.). An October 2011 poll showed the two dead even in the general election, both receiving 45 percent of support. She serves on the House Committee on Ways and Means and has been a strong supporter of women's access to abortion. She has earned a perfect rating with pro-choice groups for her entire congressional tenure. She has also cosponsored legislation promoting equal pay and a higher minimum wage. Berkley is a strong opponent of the construction of a nuclear waste depository at Yucca Mountain, Nevada.

Rep. Mazie Hirono (D-Hawaii) could be both the first Asian-American woman elected to the Senate and the first female Hawaiian senator. She serves on the House Committee on Education and the Workforce, the Committee on Ethics, and the Committee on Transportation and Infrastructure. Raised in Japan until age eight, Hirono would also be the first immigrant elected to the Senate. In an interview with The Huffington Post, she described her upbringing: "My mother brought me to this country, literally to create a better life for us. She had three children that she brought to this country, raised us all by herself, leaving an abusive marriage in Japan. So I've watched my mother work very hard with no health insurance, no job security. I know what it's like for a woman head-of-household. The economic issues that face women and our families are extremely important, and I intend to continue to raise my voice in support of families, many of whom are led by women these days." Hirono is expected to face former Republican governor Linda Lingle in the Senate race.

Former Republican Hawaii governor Linda Lingle was the first woman and the first Jewish governor of Hawaii, serving from 2002-2010. From 1999-2002, she served as the elected chair of the Hawaii Republican Party. In October 2011, she announced she would be running to succeed retiring Sen. Daniel Akaka (D-Hawaii), competing against Rep. Mazie Hirono (D-Hawaii). At the 2008 Republican National Convention, Lingle gained national prominence when she gave a strong endorsement of fellow female governor Sarah Palin, as Sen. John McCain's (R-Ariz.) running mate in the presidential election. Lingle has taken more moderate positions than many members of her party on certain issues. "Although favoring parental consent for abortions, she did not oppose all abortion rights. She also allowed tax increases for mass transit projects and cigarettes, and spoke out for expanding renewable energy," wrote The Hill in October. In 2006, she signed a pro-choice bill removing a "90-day residential requirement for women seeking an abortion in Hawaii and a requirement that all abortions be performed only in a hospital."

Longtime consumer advocate and Harvard law professor Elizabeth Warren would become the first woman elected to the Senate from Massachusetts if she defeats Republican incumbent Sen. Scott Brown in the 2012 Senate election. Warren, who has been called "Wall Street's Worst Nightmare," conceived of and built the Consumer Financial Protection Bureau (CFPB). President Obama appointed her as its acting head, but Republicans aggressively opposed the idea of her getting the permanent position and threatened to wage a drawn-out confirmation battle. Progressives urged Obama to give her a recess appointment, but Warren announced her resignation from the CFPB in July. "The pressures on middle class families are worse than ever, but it is the big corporations that get their way in Washington," said Warren in a statement announcing her candidacy for the Senate. "I want to change that. I will work my heart out to earn the trust of the people of Massachusetts." A September 2011 poll showed Warren as the only candidate with a lead against incumbent Brown. She has essentially cleared the field of major primary contenders and is the presumptive nominee.

Heitkamp, a former North Dakota attorney general and gubernatorial candidate, now running to represent the state in the U.S. Senate. She's seeking to replace fellow Democrat Kent Conrad, who announced last year that he wouldn't run for reelection. She'll face Republican Rick Berg, a freshman congressman. At her first town hall in April, she outlined a few of her positions: In her first leap into the public eye this campaign season, she is targeting the Ryan Budget. A plan that Representative Berg supported. Heitkamp is critical of the cuts to farm programs, student aid and medicare. Meanwhile, since Heitkamp entered the race -- Republicans have attacked her for backing President Obama's Healthcare plan. "My challenge is lets have a discussion what works to solve the problem with healthcare delivery in our state. I don't think repealing a bill that prohibits the use of preexisting conditions to deny people insurance or kick people off insurance is the right public policy," says Heitkamp.

Former World Wresting Entertainment CEO Linda McMahon is making her second go around as a Republican candidate for Connecticut Senate in 2012. She's in the midst of a bruising GOP primary against former Congressman Christopher Shays. The winner will face one of four Democratic candidates. In the 2010 Senate race, McMahon suffered a handy defeat to Democrat Richard Blumenthal after spending more than $50 million of her own money.