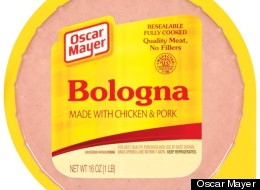 Oscar Mayer, owned by Kraft Foods, has joined the ranks of several other major food companies by pledging to source its pork from suppliers that no longer use gestation crates. Gestation crates are typically metal cages that are so small that pregnant sows are unable to move.
Oscar Mayer's timeline for this phase-out will occur over the next 10 years, and the company pledges to be gestation crate-free by 2022.
"At Oscar Mayer, we believe quality meat begins with quality animal care. We are committed to finding better ways to keep animals healthy and in a safe environment while treating them with respect," said Sydney Lindner, the Associate Director of Oscar Mayer Corporate Affairs in a press release.
The Humane Society, who has been very active working with major food companies to eliminate the crates, applauded the move. Paul Shapiro, the Humane Society's vice president of farm animal protection, believes that Oscar Meyer's decision "sends a strong message to pork industry leaders who are resisting change." Kraft Foods is the second largest food company in the world.
In addition to major food companies pledging to get rid of gestation crates, various U.S. states are eliminating the practice as well. Last month, Rhode Island banned gestation crates for pigs and veal.
Here are some other major food companies that have pledged to ban the practice:
Food Companies That Have Banned Gestation Crates
At the end of May, the country's leading hamburger chain by sales announced a plan to eliminate its suppliers' use of gestation crates by 2022.

On May 15, Denny's announced it would work with its suppliers to end the use of gestation crates for its pork products.

In May, Safeway -- the country's second-largest grocery chain -- said it plans to stop buying meat from suppliers that use gestation crates.

On April 23, Burger King pledged to eliminate the use of pork from pigs raised in crates by 2017. The company also pledged to offer entirely cage-free eggs by 2017.

In March, Wendy's announced it would work with its U.S. and Canadian pork suppliers to phase out the use of gestation crates.

Also in March, Compass Group announced it would phase out the use of meat from pigs raised in gestation crates by 2017. Compass Group runs dining operations at about 10,000 companies, hospitals, senior living centers, schools, colleges and universities, making it the largest food service company in the world.

McDonald's also announced in February its plan to stop using meat from pig raised in the crates by 2017.

Hormel, the maker of products like Spam, announced in February it pledges to eliminate most gestation crates by 2017.

Also in February, Bon Appetit announced it would stop buying pork from providers who use gestation cates. Bon Appetit runs more than 400 cafes across 31 states.

Smithfield Foods, the world's largest pork producer, announced late last year it would end its practice of using gestation crates for pregnant hogs by 2017.