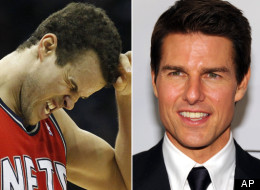 Was Tom Cruise really blindsided by Katie Holmes' divorce filing?
It's possible. Just a few days before Holmes moved to end their marriage, Cruise was gushing about their relationship to People magazine, describing his perfect day as spending "time with Kate."
And the superstar had reportedly made plans to celebrate his 50th birthday hiking and camping with Holmes in Iceland -- plans that inevitably fell through when Holmes filed the divorce paperwork a week and a half ago, which left Cruise "deeply saddened." (He may have been sad, but he was still able to move forward. On Monday, lawyers for both Holmes and Cruise confirmed that the former couple had reached a divorce settlement, including a custody arrangement for their 6-year-old daughter Suri.)
Cruise isn't the first celebrity to reportedly be "blindsided" by a divorce filing. Here, seven other celebs that were shocked by their own splits.
Celebs Who Were Blindsided By Divorce
Divorcing after just 72 days of marriage? Apparently, Kris Humphries was just as shocked as we were when he learned of Kim Kardashian's Halloween Day divorce filing. "I love my wife and am devastated to learn she filed for divorce," Humphries said in a statement issued to People. "I'm committed to this marriage and everything this covenant represents and I'm willing to do whatever it takes to make it work."

Talk about blindsided. According to E! Online, Hulk Hogan was caught entirely off guard when a reporter called him for comment on news that his wife, Linda, was divorcing him after 24 years of marriage. Hogan reportedly thanked the reporter for the "great information," before hanging up the phone. Five minutes later, the retired wrestler called back to say he had been "kind of shocked" by the news. "You caught me off guard," Hogan continued. "My wife has been in California for about three weeks. Holy smokes. Wow, you just knocked the bottom out of me. I just pulled over to the side of the road for five minutes to find out what was going here." The Hogans' divorce was finalized in July 2009.

Jennie Garth said she was shocked by Peter Facinelli's March 2012 divorce filing after 11 years of marriage. The actress told People magazine that her marital problems with Facinelli were "something we were working through together... As anybody who's been through it, it's always kind of shocking when it ends up finally happening. But it was sad for our family unit. We're a really great family, and we always will be, because we have three beautiful daughters together."

Football great Terry Bradshaw didn't know what hit him when his wife, ice-skating star JoJo Starbuck, filed for divorce in August 1980 after four-years of marriage. "I'm going to do everything I can to patch things up," the former Pittsburgh Steeler quarterback told the Daily News at the time. "I don't accept her claim that it's over." Though the two said they sought counseling and prayed on the matter, they were divorced by 1983.

Britney Spears filed to divorce Kevin Federline in November 2011, citing "irreconcilable differences." Apparently, the news came as a shock to Federline, who -- after two years of marriage and two sons together -- believed his problems with Spears could be worked out. "I mean, we were having complications. I didn't give her an ultimatum, but I was trying to work stuff out with her, and she didn't even talk to me or anything and went behind my back and filed [for divorce]. [I was] completely blindsided," Federline told People in December 2008. Spears' divorce from the back-up-dancer-turned "PopoZao" singer was finalized in July 2007.

When Melissa Etheridge filed to officially dissolve her nine-year partnership with Tammy Lynn Michaels in July 2010, what "blindsided" Michaels wasn't so much Etheridge's decision to end things, but the rocker's timing in doing so. Responding to the news on her blog, Michaels wrote, "Gentle waves/ no noise for awhile/ or maybe gentle voices/and SMACK!!!!! FILE FOR DIVORCE!!!/ even though we both promised, agreed, handshook, pinkyswore/no filing until after tour/in the fall...Her broken promises told to me by headlines....could you stop blind sighting me?/ Have a good concert."

In early April 2011, news broke that former New York Giants running back Tiki Barber was having an affair with former NBC intern Traci Lynn Johnson. A few weeks later, his pregnant wife, Ginny, filed for divorce. The move reportedly "blindsided" the footballer-turned-NBC television football analyst, because he was under the impression that neither "would file divorce papers until after their babies were born." A month later, Ginny gave birth to twins (Tiki was banned from the delivery room) and in April 2012, the former spouses' divorce was finalized, clearing the way for Barber to marry Johnson.