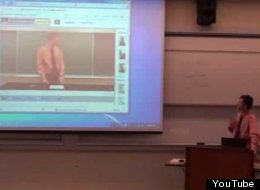 For all the fanfare made about online learning representing the ruin of education, one teacher actually managed to use technology to his advantage — enlisting the help of his "imaginary" counterpart from cyberspace to, fittingly, teach his class about complex numbers.
The video comes courtesy of Matthew Weathers, who, in addition to working for Biola's Department of Distance Learning, also teaches the popular "Nature of Math" class at the southern California university. Weathers has become known for using his "trick" videos to engage his students.
Check out the awesome quick lesson above.