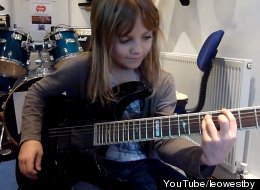 For some YouTube stars, fame's breathless 15 minutes are over in a flash. (For others, the fairy tale never ends.)
But Zoe Thomson has staying power. This clip of the British 8-year-old practicing Stratovarius's "Stratosphere" has over 4.5 million views -- and it continues to blow everyone away. She's even been called a "true prodigy."
Now 9 years old, Zoe has a complete and highly impressive oeuvre on the web. We've collected her greatest hits as well as performances with her group, The Mini Band, in the slideshow below. Click through, be wowed, rock out.
Zoe Thomson and The Mini Band
6 Year old Zoe Plays Linkin Park's New Divide. First go in front of a video camera. Even the 3/4 size Ibanez is huge on her :-) Zoe is taught at www.letsplayrock.com

Zoe at aged 7 playing Sweet Child Of Mine. Zoe now plays in The Mini Band, who have become an internet sensation after their video of Metallica's Enter Sandman went viral. Zoe and her band have a Facebook page here www.facebook.com Check out their 1st original song here! youtu.be Zoe is taught at www.letsplayrock.com

Zoe is taught at www.letsplayrock.com

This is work in progress, playing along to the original track. Its not finished! Join Zoe's bands facebook page here www.facebook.com and her music video here www.youtube.com Zoe is from the UK and is taught at www.letsplayrock.com Originally by Stratovarius

Zoe playing Belief by John Mayer, captured on a mobile phone

Live at the Bucklebury Beer Festival, The Mini band, with Zoe Thomson and Harry Jackson on lead guitars, Kieran Fell on Rhythm, Harrison Read on lead vocals, Archie Zolotuhin on Bass and Charlie Emmons on drums. The guitar/vocals are 8 years old, bass and drums 10 years old. Join their facebook group here: www.facebook.com contact www.letsplayrock.com

Live at the Bucklebury Beer Festival, The Mini Band, with Zoe Thomson, Harry Jackson and Kieran Fell on guitar, Harrison Read on lead vocals, Archie Zolotuhin on bass guitar and Charlie Emmons on drums. The guitar/vocals are 8 years old, bass and drums 10 years old.

Find The Time, written by The Mini Band aged 8 to 10 in the UK. The Mini Band's video of Metallica's Enter Sandman went viral, even prompting a video response from Metallica themselves! www.youtube.com Please join their Facebook page at: www.facebook.com The Mini Band are taught at www.letsplayrock.com Video created by Mark Stopher & Christopher Pearless www.youtube.com Can't thank them enough for this! Jolly cold day though! Band contact email: info@letsplayrock.com Tel: +44 7988 888478 or +44 1635 866000 Special thanks also to Dan Leigh, Carlos Garcia, Ryan Burnett, Sam Butler and Sam Winfield for helping make this possible. The Mini Band are: Harrison Read: Lead Vocal aged 8 Harry Jackson: Lead Guitar aged 8 Zoe Thomson: Lead Guitar aged 8 Kieran Fell: Rhythm Guitar aged 8 Archie Zolotuhin: Bass Guitar aged 10 Charlie Emmons: Drums aged 10 Song Lyrics: Find the time You can wait forever to just let go And you can wait forever to stay You can wait forever to let me know And you can go on your own way Chorus If you can find the time to make it right Then so can I Are we going around again? For you my friend it never ends Verse 2 You were never ready to take your prize And you were never willing to stay You were never ready to stop your lies So I went my own way Chorus