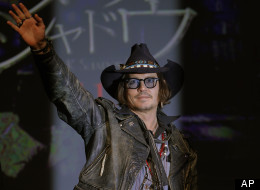 Johnny Depp hasn't necessarily enjoyed 2012 so far.
"Dark Shadows," Depp's eighth collaboration with Tim Burton, earned just $76 million in North America following its release in May (the film was a bigger hit overseas, grossing $156 million); "The Lone Ranger," Depp's upcoming fifth collaboration with Gore Verbinski, has reportedly seen its budget balloon to $250 million, pushing some inside sources to call the film "out of control"; "The Thin Man," Depp's scheduled second collaboration with Rob Marshall, seemingly fell apart -- with Marshall moving on to another project and Warner Bros. not yet greenlighting the expensive period remake.
Then there's his personal life: Back in June, Depp announced that he had split from his long time girlfriend, Vanessa Paradis, after 14 years together. The pair have two children.
All of which is to say: Depp needs a bit of a comeback. And judging from two potential new projects, he might have found one.
According to TwitchFilm, Depp has been approached by none other than Wes Anderson to appear in the director's next film. Depp could potentially join a cast that would include Anderson favorites Bill Murray, Owen Wilson, Jeff Goldblum, Adrien Brody, Willem Dafoe and Edward Norton, as well as Jude Law and Angela Lansbury. In an interview with Vulture earlier this year, Anderson said that the film was set in Europe and that he co-wrote the project with a friend who wasn't in the film industry.
That's not all for Depp. According to the New York Times, Depp will co-edit House of Earth, an unpublished novel from singer Woody Guthrie. The famed folk artist wrote the story back in 1947.
This return to the off-center, indie-ish roots of his past doesn't mean Depp is leaving Hollywood blockbusters behind. Despite budget woes, "The Lone Ranger" will arrive in theaters next summer; Depp could also star in another "Pirates of the Caribbean" film should one ever get off the ground at Disney.
So why see Dark Shadows, on a weekend when The Avengers beckons you for a second look? Five reasons, and they're all females. Each of the actresses in the cast looks great and star-acts up a perfect storm.

Of all the morbid beauties in Tim Burton's work, the spooky goth girls and deathly pale boys, none wear their ghoulishness as lightly or winningly as Johnny Depp. And what a bewitching corpse he makes in "Dark Shadows," Mr. Burton's most pleasurable film in years.

As the door to Collinwood creaks open... we glimpse a powerful, almost Proustian totem leaning against the front porch: A Schwinn kids' bicycle, with a banana seat. I had already suspected I was going to love "Dark Shadows," even before that moment. But that's when I knew it for sure.

Some of director Tim Burton's costume parties are livelier than others, and the new "Dark Shadows" -- from the man who gave us "Edward Scissorhands," "Sweeney Todd," "Alice in Wonderland" and other chalkface-makeup spectaculars starring Johnny Depp -- feels like a place-holder, a meandering first draft of an adaptation of the supernatural soap opera that ran on ABC-TV from 1966 to 1971.

Tim Burton's "Dark Shadows" is all dressed up with nowhere to go, an elegant production without a central drive. It offers wonderful things, but they aren't what's important. It's as if Burton directed at arm's length, unwilling to find juice in the story.

The film delivers precisely the satisfaction a sympathetic audience could expect from its director, not one degree above or below. The audience is whelmed. It's a whelmer.

Burton's greatest strength remains his visual artistry. "Dark Shadows" obviously springs from the same brilliantly ma-cabre imagination that has given us such works as "Beetlejuice," "Sleepy Hollow" and "Corpse Bride." But when the script is as weak as this "Munsters"-level pastiche by John August ("Big Fish") and Emerson graduate Seth Grahame-Smith, Burton is helpless.