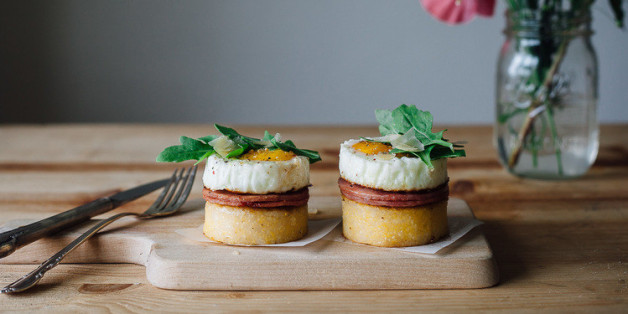 Molly Yeh
Eggs Benedict represents everything we should not be eating in the mornings. It's a decadent stack of Canadian bacon, poached eggs and English muffin that gets generously doused in a buttery, rich hollandaise sauce; it's no wonder that Eggs Benedict one of the best-tasting dishes you can find on a breakfast menu. Anywhere.
While we love the classic version of this dish, there are many variations that are worth trying too. Replacing the pork with salmon lightens it up a bit, swapping the English muffin for a biscuit makes it even more decadent, and adding guacamole is never, ever a bad idea. Whichever direction you choose to go, you can't go wrong with the 17 eggs Benedict recipes we've gathered for you below.
1

Country Style Eggs Benedict

Spoon Fork Bacon

2

Sweet Corn Cake Eggs Benedict With Avocado Hollandaise

How Sweet It Is

3

Eggs Benedict Cumberbatch

Molly Yeh

Cooking for Keeps

5

Cotija Guacamole And Chorizo Eggs Benedict

Half Baked Harvest

6

Asparagus And Bacon Eggs Benedict

A Healthy Jalapeno

7

Eggs Benedict Con Queso

Confections of a Foodie Bride

8

Salmon And Bagel Benedict

Foodie Crush

Confections of a Foodie Bride

Fabtastic Eats

11

Smoked Salmon Eggs Benedict

Katherine Martinelli

12

Cheddar Eggs Benedict With Cilantro-Lime Hollandaise

Whole Home News

The Bite House

Lana' Cooking

15

Eggs Benedict Huevos Rancheros

I Adore Food

16

Eggs Benedict Over Savory Waffles

Against All Grain

Simply Recipes
Want to read more from HuffPost Taste? Follow us on Twitter, Facebook, Pinterest and Tumblr.
YOU MAY LIKE
CONVERSATIONS
FOLLOW HUFFPOST