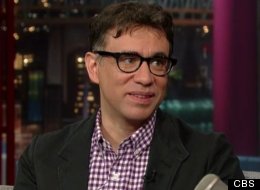 Veteran "Saturday Night Live" cast member Fred Armisen has been impersonating President Obama since before the 2008 election and, if he stays on the show, could potentially do it for another four years.
On Tuesday night's "Late Show," Armisen sat down with David Letterman and revealed a few of his secrets to impersonating the President.
"Basically, when I do him, I just kind of make sure to kind of start up, I say, 'Hello!'" Armisen said in his best Obama. He also talks about Obama's other quirks, like his affinity for showing his profile and the way shakes his head slightly as if to say, "It's going to be okay."
Unlike his co-stars Kristen Wiig and Andy Samberg, who have left "Saturday Night Live" after spending a comparable amount of time on the cast, Armisen's impression gives him a reason to stick around through the fall. Similarly, Jason Sudeikis, who plays Joe Biden and Mitt Romney and has hinted that he will leave the show, but it is likely that he could return to do his impressions, a la Tina Fey doing Sarah Palin in 2008.
Then again, there's also Taran Killam and Jay Pharoah. Perhaps the torches will soon be passed?
Watch Armisen on Letterman above and check out the top 5 funniest Obama impressions below, via Gotcha Media
After Obama made his triumphant post-Osama bin Laden killing speech, YouTube's Alphacat put out the far more entertaining hip hop version.

SNL's official Obama has made many speeches and given many interviews over the years, but he's never been better than in Funny or Die's all-star Presidential reunion. [WATCH VIDEO]

After he was prematurely removed from the stage at the Republican Leadership Conference, Bill Maher invited Reggie Brown to finish his act on Real Time.

In this July 4th video from CollegeHumor, Barack Obama sums up the events of the first half of 2011 with an elaborate BBQ metaphor. [WATCH VIDEO]

Jay Pharoah may not get a chance to display his Obama impression on SNL (he's been focusing on Denzel Washington, Will Smith, and Jay-Z) but he's clearly got the chops if they eventually need him.