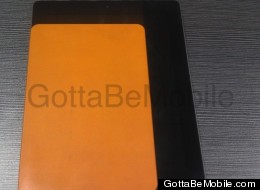 Surprise! Apple's iPad Mini is probably going to look like an iPad ... but smaller.
Leaked factory images published by Gotta Be Mobile show that the iPad mini won't just be one-third smaller than the third-generation iPad, but also thinner.
The rumored 19-pin dock connector that won't be compatible with current iPhone and iPad chargers is seemingly evident in the photo. According to Gotta Be Mobile, the iPad Mini may be a bit taller than Google's Nexus 7 tablet.
Gotta Be Mobile recommends going to the current iPad's homescreen and turning the tablet to a landscape so, when the image shrinks, you should have an idea of what the iPad Mini's display will look like.
After the images leaked, Jon Quach at Techno Buffalo took the liberty of drawing up mockups of what the iPad Mini might actually look like.
The iPad Mini is rumored to be released in October of this year.
View Techno Buffalo's mockup and Gotta Be Mobile's exclusive photos in the slideshow below.
CORRECTION: An earlier version of this post said that an iPad Mini might be two-thirds smaller than the current 9.7-inch iPad offerend by Apple. Based on leaked information, the iPad Mini is said to be about one-third smaller than the full-sized iPad. We regret the confusion.