Join our discussion on The Sun Also Rises by looking through our chapter updates, video updates and conversations below.
Andrew Losowsky, Books Editor
I'm British, so anything you think I've spelled wrong, is actually just spelled older. I look for stories to take my brain into new spaces, and I'll be particularly discussing the facts as we think we know them, and the clues I think we're being given by the story. Let me know if you think I'm wrong! I'll also be choosing a few facts to use as jumping-off points for tangential discussions.
Zoë Triska, Associate Books Editor
I was a Literature major so I can't help analyzing every single thing (from the syntax and language to metaphors, similes, you name it). I (reluctantly) admit that I'm one of those people who Googles phrases, places, names every couple of pages when I'm reading. There are constantly things that stump me, though so I'd love to hear your thoughts on the significance of words, places, phrases, events that take place in the book.
Madeleine Crum, Assistant Books Editor
I like looking at language particularities, but in case you think that's a snooze (you wouldn't be alone), I'm also interested in reading what critics say about books and whether their reviews are spot on or way off. Let's talk about it.
Annemarie Dooling, Community Editor
Quotes, locations and descriptions speak to me the same way characters do. I love dissecting the same details that tell us more about the story than the actual prose. If you read the same books over and over and over again the same way you visit an out-of-town friend, we're going to get along just fine.
Here's our reading schedule:
July 18: Chapters I - V
July 25: Chapters VI - X
Aug 1: Chapters XI - XIII
Aug 8: XIV - XVII
Aug 15: XVIII - XIX
08/17/2012 2:46 PM EDT
Win an Out of Print "The Sun Also Rises" t-shirt
Because you are the world's very best reading community, we want to share something with you.
Out of Print makes these great t-shirts featuring the cover of Hemingway's "The Sun Also Rises" and they're giving us two to give to book club readers.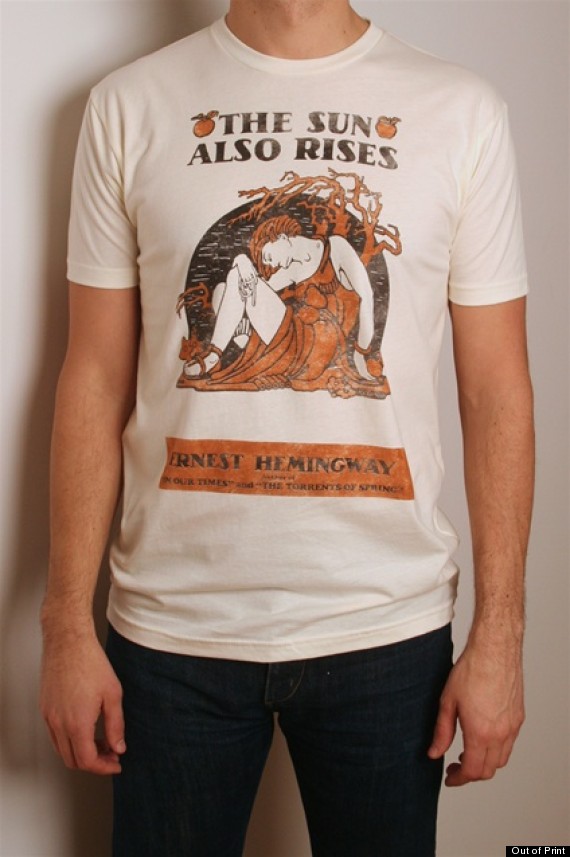 To win an Out of Print shirt, scroll down to the comments and let us know in one short paragraph who your favorite character was and why. We've done a lot of discussion around our favorite flaws and relationships and now we want to know who you liked, related to, or loved to hate the most.
We'll feature some of our favorites through the week and pick one winner next Friday, 8/24.
Good luck and thank you for reading!
08/17/2012 2:28 PM EDT
Time to pick the next book
08/15/2012 4:52 PM EDT
My most significant/interesting phrases from the book
I've made a page with the phrases I highlighted - both good and bad - as I read here.
-- Andrew
HuffPost Books Editor
08/15/2012 2:39 PM EDT
Check HERE at 4pm ET for the roundtable discussion
08/10/2012 10:49 AM EDT
Another great quote
@ JaneAddamsBooks :

"This wine is too good for toast-drinking, my dear.You don't want to mix emotions up with a wine like that. You lose the taste." #hpbookclub
08/10/2012 10:47 AM EDT
A great quote from a community member
@ collkell :

"We could have had such a damned good time together" .... "Yes," I said "Isn't it pretty to think so?" - The Sun Also Rises #hpbookclub
08/09/2012 3:44 PM EDT
The People's Bullfighters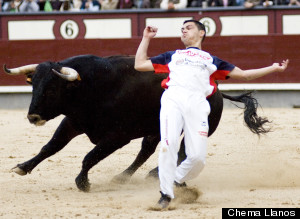 If you've enjoyed reading about the bull run in Pamplona, you'll love this contemporary account of blue-collar bullfighting in modern-day Spain written for us by Kati Krause.
08/08/2012 6:08 PM EDT
Brooke's post from today's video chat
If you are looking for Brooke's photos and blog on Pamplona, please click here to read it.
08/08/2012 3:54 PM EDT
Chapters 14-17 Discussion
SUBSCRIBE TO & FOLLOW CULTURE SHIFT
Level up. Read THIS and be the most interesting person at your dinner party. Learn more