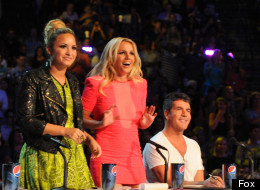 A new commercial for "The X Factor" Season 2 aired during the MLB All-Star game that proves Britney Spears is getting harsh on the judges panel.
"Has America's sweetheart been hanging out with Simon Cowell too much?" the ad asks.
Then, Spears spews some critical comments like, "You can't destroy that song, sweetie" and "You definitely don't have the X factor."
As for her judging style, Spears told Access Hollywood in June that she thinks she's a "fair judge ... I don't think I'm the toughest judge at all ... I definitely think Simon would have to be the toughest judge."
Thus far, it's been a roller coaster ride for Spears, who joins "The X Factor" with fellow new judge Demi Lovato this season. It was recently reported that she stormed off the set when a drag performer cover her hit "(You Drive Me) Crazy" and at an earlier round of auditions, Spears' former duet partner came out to her on stage.
Part 1 of "The X Factor" Season 2 premieres on Wednesday, Sept. 12 at 8 p.m. ET with Part 2 airing on Thursday, Sept. 13 at 8 p.m. ET.