Tiziano Vecellio, aka Titian, is widely known as the greatest artist of the 16th century. His first major commissioned work, titled, "The Flight Into Egypt" was made when the artist was just a teenager. The early masterpiece depicts the remarkable skill and ambition of an artist who would blossom into one of the best colorists of all time. The rare work is currently on view at the National Gallery in London -- its first time leaving Russia since Catherine the Great purchased the piece in 1768.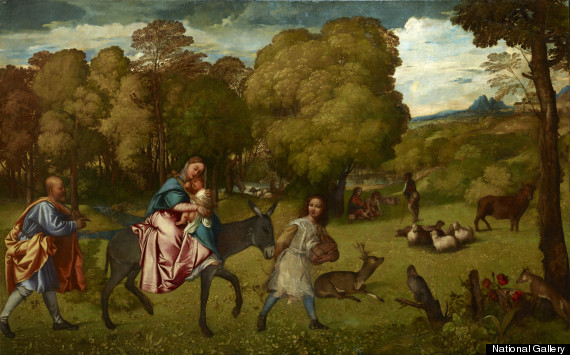 Titian
The Flight into Egypt
about 15067
Oil on canvas
206 x 336 cm
Credit Line: The State Hermitage Museum, St Petersburg
Photograph © The State Hermitage Museum / Natalia Antonova, Inessa Regentova
The piece shows an early example of Titian's signature pastoral, combining a naive sense of natural beauty with a whiff of mysticism. His evocative use of color and create intense atmospheres which are both exquisitely picturesque and slightly ominous. The artwork was lent by St. Petersburg's Hermitage Museum after years of restoration. The work will be exhibited alongside 20 of Titian's contemporaries from 16th century Venice including his first master Giovanni Bellini, Giorgione and Albrecht Durer, who was in Venice when Titian began working on "The Flight."
Titian was born in 1488 in a small town on the Venetian side of the Alps. His artistic career was uniquely diverse in both subject matter and clientele; he appealed to an international audience through his paintings of landscapes, portraits and profane subjects. Widely hailed as the greatest painter of his era, Titian's style was described by Dolci as moving "in step with nature, so that every one of his figures has life, movement and flesh which palpitates." In the BBC video below he is described more modernly as the Fred Astaire of painting. "The Flight Into Egypt" was patroned by Andrea Loredon for the portico of Loredan's palace on the Grand Canal. Today this is the site of the Venice Casino.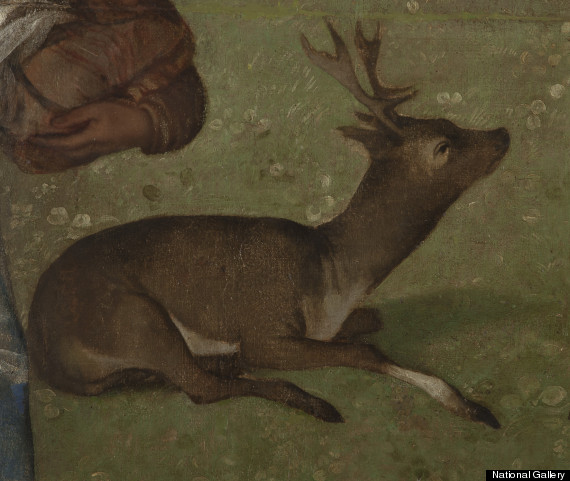 Titian
The Flight into Egypt (detail)
about 15067
Oil on canvas
206 x 336 cm
Credit Line: The State Hermitage Museum, St Petersburg
Photograph © The State Hermitage Museum / Natalia Antonova, Inessa Regentova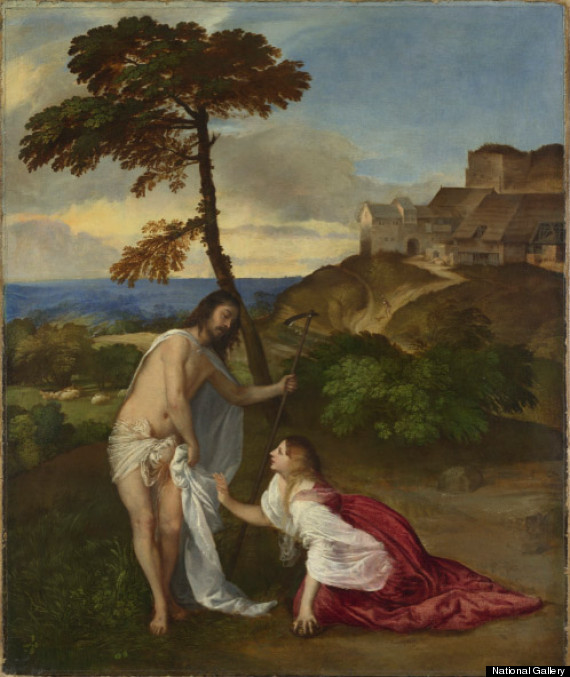 Titian
Noli me Tangere
about 1511-12
Oil on canvas
110.5 x 91.9 cm
Credit Line: The National Gallery, London. Bequeathed by Samuel Rogers, 1856
© The National Gallery, London
SUBSCRIBE TO & FOLLOW CULTURE SHIFT
Every Friday, HuffPost's Culture Shift newsletter helps you figure out which books you should read, art you should check out, movies you should watch and music should listen to. Learn more