By Joseph Castro, LiveScience Contributor:
When species lose their natural habitat to deforestation and other causes, they don't immediately disappear. Instead, they gradually die off over several generations, racking up an "extinction debt" that must eventually be paid in full. New research shows that the Brazilian Amazon has accrued a heavy vertebrate extinction debt, with more than 80 percent of extinctions expected from historical deforestation still impending.
While the results are alarming, this deathly time lag provides a conservation opportunity to save some of the disappearing species, scientists said, stressing that actions taken in the next few years are critical.
"Now that we know where the extinction debt is likely to be, we can go to the ground to restore habitat and take remedial actions to try to regenerate new habitats," said study lead author Robert Ewers, an ecologist at Imperial College London in the U.K. "We can try to put off ever having to pay that debt."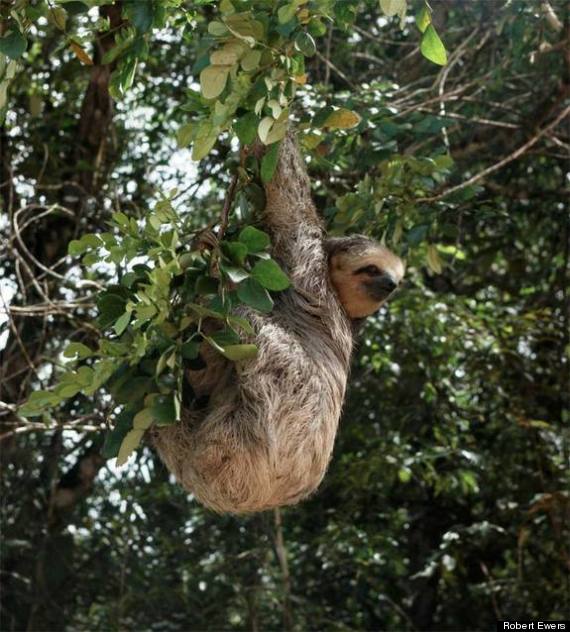 A sloth at the edge of a forest in the Amazon.
Extinction debt
The Brazilian Amazonis home to about 40 percent of the planet's tropical forests and a staggering amount of biodiversity. However, the Amazon's plant and animal species are under threat by deforestation, mostly due to agriculture and cattle ranging. [Stunning Photos of the Amazon]
Ewers and his colleagues set out to determine how many species would be lost from at least part of their historical habitats in the Amazon because of past and future deforestation. They began by looking at the "species-area relationship," a well-established ecological pattern describing how the number of species in a given habitat increases predictably as the habitat area increases. By turning this idea on its head, you can figure out how many species should go extinct as their habitat shrinks.
The researchers modeled the number of vertebrate species expected to go extinct within 31-mile by 31-mile blocks (50 by 50 kilometer blocks). They used a combination of deforestation data spanning back to 1970 and species-distribution maps of the Amazon. They compared their model's predictions with the actual number of extinctions seen thus far in the forest regions and found that 80 to 90 percent of the expected local extinctions have yet to happen, and many of them will occur in the southern and eastern regions of the Amazon.
Next, Ewers and his team used their model to estimate the magnitude of the local extinctions and extinction debts expected to occur in four scenarios, which mainly differ in their projections of future deforestation rates. Under the most likely scenario, every forest block will lose an average of about nine vertebrate speciesand be in debt for another 16 species by 2050.
And in all scenarios, species will continue to go extinct more than three decades after deforestation in the Amazon has stopped, if key forest areas are not restored, the researchers found.
"What we've seen in the last four decades is nothing like what we are going to see in the next four decades," Ewers told LiveScience.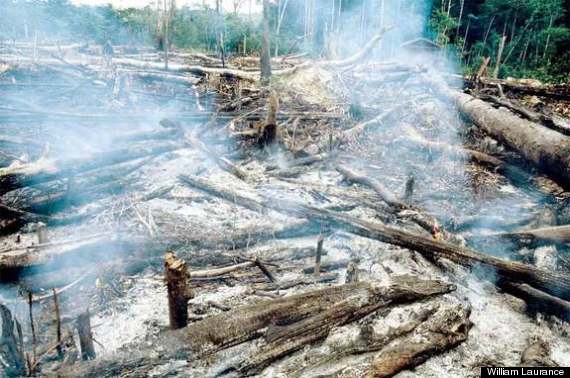 Slash and burn in the Amazon.
Defaulting on the debt
Thiago Rangel, an ecologist at the Federal University of Goiás in Brazil who wasn't involved in the research, was surprised to see the Amazon's huge extinction debt. "Of course, that gives Brazil a very good opportunity for conservation measures," Rangel said. [10 Species You Can Kiss Goodbye]
Rangel, who wrote a perspective article accompanying the study published July 13 in the journal Science, pointed out that Brazil has made a lot of progress in reducing deforestation in the last decade. Moreover, the county has been expanding its network of protected areas — more than 50 percent of the Amazon is now under some form of environmental protection.
"But we are in the middle of a strong transition in Brazil from a very good and modern environmental legislation to something else," Rangel told LiveScience. Agricultural businesses, for example, have been lobbying for weaker forest protection codes — this past May, Brazilian President Dilma Rousseff vetoed portions of such a bill, though this isn't likely the end of the debate, Rangel said.
Rangel stresses that Brazil must "default on its extinction debt," possibly by creating more conservation areas, particularly in places that have been abandoned by agriculturalists. Whatever the case, something needs to be done soon, he said.
Ewers agreed. "This problem has been building, and it will soon roll over and crash like a wave," he said.
Follow LiveScience on Twitter @livescience. We're also on Facebook & Google+.
Copyright 2012 LiveScience, a TechMediaNetwork company. All rights reserved. This material may not be published, broadcast, rewritten or redistributed.
Also on HuffPost:
Loading Slideshow
Cheetah Cubs

Three cheetah cubs, born in November 2004, lean against their mother during a preview showing at the National Zoo in February 2005 in Washington D.C. Today there are just 12,400 cheetahs remaining in the wild, with the biggest population, totaling 2,500 living in Namibia.

Baby Black Rhino

A baby Black Rhinoceros stands in front of its mother in an enclosure at Tokyo's Ueno Zoo in June 2009. The Black Rhinoceros is a critically endangered species, according to the International Rhino Foundation there are less than 5,000 surviving in the world.

Orangutans

An orangutan infant at Ragunan Zoo in Jakarta, Indonesia, on February 15, 2007. Orangutans are threatened by deforestation and hunting. Click here for more orangutan photos.

Koala

A baby joey koala at Sydney's Wildlife World. Though koalas are Australia's most iconic and adored marsupials, they are under threat due to a shortage of suitable habitat from mass land clearance.

Gorilla Mother And Son

A 15-year-old female mountain gorilla holds her five month old son at the Kahuzi Biega Nature Park in Democratic Republic of Congo in May 2004. Only 700 mountain gorillas are left in the world, and over half live in central Africa.

African Penguins

A group of African penguins gather near a pond at a conservation site in Cape Town, South Africa. Birdlife International say the African penguin is edging closer to extinction.

Endangered Tiger Cubs

A Trio of 45 day-old Bengal white tiger cubs were born in December 2007 At the Buenos Aires Zoo. With only 240 white tigers living in the world, their birth gave a boost to the animals' endangered population.

South Korea's Black Bears

A pair of black bears sit at a zoo in Kwacheon, South Korea in November 2001. Black bears have been on the endangered species list since 2007.

Madagascar Lemur

A newly born Madagascar Lemur, an endangered species, at Besancon Zoo in France. There are only 17 living in captivity worldwide.

Red Pandas

Two-month-old twin Red Panda cubs make their debut at Taronga Zoo in March 2007 in Sydney, Australia. The cubs were born out of an international breeding program for endangered species.

Lin Hui

China's panda is one of the world's most beloved but endangered animals. Lin Hui, a female Panda- on a ten-year loan from China - eats bamboo at Chiang Mai Zoo in Thailand in Sept 2005. Captive pandas are notoriously poor breeders.

South East Asian Monkey

The Sydney's Taronga Zoo is home for this bright orange male infant monkey. This South East Asian monkey is highly endangered.

Night Monkey

A grey-bellied Night Monkey born in captivity climbs onto his mother's arms at the Santa Fe Zoo, in Medellin, Colombia. The Night Monkey is an endangered species.

Tigers

A six-month-old male Sumatran tiger cub rests under his mother careful watch at the National Zoo in Washington in October 2004. Sumatran tigers are endangered; fewer than 500 are believed to exist in the wild and 210 animals live in zoos around the world.

Elephants

A baby elephant is pictured at the Singapore Zoo on Friday, Dec. 10, 2010. Many elephants are threatened by habitat loss and listed as endangered on the IUCN Red List.

Polar Bears

A sow polar bear rests with her cubs on the pack ice in the Beaufort Sea in Alaska. In 2008, the U.S. government described polar bears as threatened under the Endangered Species Act. Due to dangerous declines in ice habit, polar bears are at risk of becoming endangered.