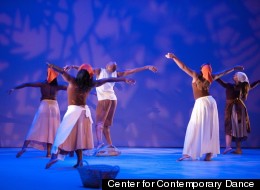 Arts programs are typically the first to go when schools and organizations face budget cuts. It's a sad reality that often means nonprofits have to bear the entire burden of imbuing a passion for culture among community members who can't afford the high price tag that comes with dance lessons, painting classes and music courses.
For this reason, here at HuffPost Impact, in combination with GreatNonprofits.org, we will devote the rest of the month to saluting 10 local –- and lesser known -- nonprofits that are entirely committed to exposing youngsters, adults and seniors to the arts, and to helping them to develop a lifelong appreciation for them.
Check out the personal testimonies from people who have benefitted from these outstanding nonprofits and cast your vote for the one you think is doing the most good.
DIRECTIONS: In the slideshow below, give any nonprofit you feel is deserving 1-5 stars. The nonprofit with the most stars at the end of the month wins the title of HuffPost Top Local Nonprofit of the Month.
SLIDESHOW:
Vote For The Nonprofit Of The Month!
"The Sacramento Art History Consortium has been doing really cool staff and their services are pretty unique in the community," wrote Andrea G. on GreatNonprofits. "There is really no other art organization in Sacramento that does or provides anything similar to the services that SAHC makes available."

"I want to THANK! [Arizona] Russian Center for help and introduction to Russian speaking community of AZ," Alika wrote on GreatNonprofits. "I never had so [much] professional, free and enthusiastic help before."

"The performance that The Center for Contemporary Dance brought to our school was a great experience for our students and teachers," Alexa wrote on GreatNonprofits. "It was evident through their faces during and after the presentation that our students were deeply engaged."

"Children need to be valued, nurtured and guided and EduDesigns helps do all of these things," wrote Kristana B on GreatNonprofits. "Our children's creativity also needs to be fostered by providing a good arts education. This does it!"

"SummerSongs is a community for singer songwriters to feel supported emotionally and technically to pursue the passion of making original music," 17angels wrote on GreatNonprofits. "This is my musical family, a special group of extraordinarily talented and fun-loving folks. I'm a lifer!"

"As a parent (and volunteer), I am so grateful for Midwest Young Artists (MYA) and all the wonderful experiences it brought to my daughter," CESL wrote on GreatNonprofits. "I am so grateful that it has encouraged her to continue playing her instrument and be involved in music at university."

"Peer Recovery Art Project has given my son a voice via his Art about the Injustices in Society," Ana Guadalupe A. wrote on GreatNonprofits. "Expressing himself via Art has allowed him to grow, be aware of his emotions and take his Art to a whole new journey/level."

"YMTC produces unbelievably impressive musical theater by young people," Katgrac wrote on GreatNonprofits. "But perhaps more impressive than the productions themselves is the incredible education that this organization offers to young people -- in the theatrical arts, for sure, but also in teamwork and in setting ambitious goals and achieving them."

"I have always enjoyed singing and dancing, but it wasn't until I entered Vagabond Acting Troupe that I got over my shyness to show others how much talent I truly had," Sarah58 wrote on GreatNonprofits. "Vagabond taught me that it is okay to be goofy, in fact people actually enjoy it."

"Creative Aging stands out to me because the good they do is pure benevolence, Matthew13 wrote on GreatNonprofits. "I've had loved ones in care homes in other cities, without access to this type of enrichment, and the places they lived lacked the spice and spark of the facilities I've visited that benefit from CAM's programs."