How To (Finally) Quit Your Job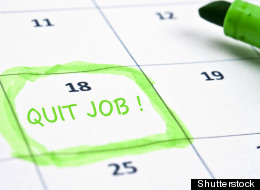 As you wait for the elevator to arrive after another mediocre day at the office, you give yourself an all-too-familiar pep talk. "I'm better than this, and I've completely had it with this job," you tell yourself. "I'm outta here for good."
As you ride the elevator to the lobby, you visualize your last day at the company. You fantasize about walking into your manager's office, tabling your resignation letter, and cleaning your forsaken cubicle for the final time. You flash your trapped colleagues a half-sympathetic smile, but you're barely able to contain your excitement at the new direction you're about to take. By the time you exit the elevator to the ground floor, the fantasy ends, and your once-slumped shoulders suddenly stiffen with resolve. You're actually going to resign tomorrow!