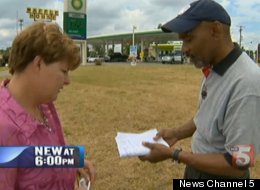 We've all complained - whether to a neighbor, grandma or politician - about high gas prices at one point or another. This Nashville man should probably save his complaints for a lawyer.
News Channel 5 reports that Ray Crockett pulled into a Mapco gas station last Friday because, he said, "They had the cheapest gas at the time." Crockett filled up, swiped his card to pay, and grabbed the receipt showing he'd been charged $30.00.
Several days later Crockett went to use his card again, only to have the payment declined. The culprit? His bank statement shows he'd been charged $84,522.54 for that $30 tank of gas.
As of this writing, gas prices in Nashville hovered near $3.09, which means Crockett's tank would have to hold more than 27,000 gallons for that $84,000 fill-up to make sense.
But Citibank, the issuer of his debit card, doesn't see it that way; the bank says it paid the gas station the full amount, then locked Crockett out of his (now seriously overdrawn) account. Adding to the mess, Mapco says they never received the payment, writes The Consumerist, leaving Crockett stuck hopelessly in the middle with only a $100 gift card that the gas station provided to help him get by.
Citibank recently corrected the error, and issued this statement:
Due to a[n] input error at the merchant, a charge was erroneously billed to [the customer's] account. Citi has credited [the customer's] account and his card is available for use. We apologize for any inconvenience this caused and are putting processes in place to ensure that this does not happen in the future.
Oddly, this isn't the only gas station mishap involving a large number in the 80s. According to the Seattle Times, in 2009, a man filling up in Washington was mistakenly billed $81.4 billion after an error with his PayPal-issued debit card.
Check out some other crazy bill stories:
Unemployed doorman Alexis Rodriguez received a bill for $44.8 million from Bronx-Lebanon Hospital Center. Thankfully, the outrageous bill was the result of a billing company error, in which they mistakenly put the invoice number in the space where the invoice amount should go.

Celina Aarons of South Florida received a 43-page cell phone bill adding up to $201,000. The bill was no mistake. Aarons, who also has her two deaf-mute brothers on her plan, forgot to change their data to international after the pair spent two weeks in Canada, accruing up to $2,000 in data charges.

After Loretta Robinson's son was killed by a drunk driver, she was billed for various charges, including a $50 charge to clean up her son's blood from the road along with charges to tow and store the suspect's vehicle after the incident.

Alina Simone thought she didn't have to worry about her cell phone bill as she had set up auto bill-pay. However, when she finally checked her statement, she discovered that she was being charged per text message, racking up more than $700 in fees despite the fact that her plan entitled her to 1,000 free texts per month.

A Middletown, Ohio teen got caught charging over $37,000 worth of candy to his high school's purchasing number. After the company, The Goodies Factory, became suspicious, authorities arrested the 18-year-old at his home when he went to receive the empty package.

Breast cancer survivor Lisa Lindsay was arrested after she refused to pay a $280 medical bill, which was sent to her by accident.

A New Mexico woman was billed for a mandatory body cavity search after being accused of concealing heroin. The search turned up nothing and the woman was not arrested or charged, however she received a bill for $1,122 from the hospital that performed the search.

An Ohio man was charged over $16,000,000 by Time Warner Cable after he accrued some odd charges for watching the March Madness tournament. The bill was eventually blamed on human error.