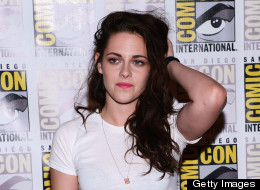 With "The Amazing Spider-Man" crossing the $400 million plateau after just one week of release, it's no surprise that Hollywood studios have reboot fever. That extends to the "Twilight" franchise, which is four months away from wrapping up with "Breaking Dawn Part 2." Could things start over in the near future?
Back in June, rumors swirled that Lionsgate was thinking about restarting the franchise in a few years with an all-new cast, something that Lionsgate executive Rob Friedman sort of denied in an interview with Deadline.com.
"We are not remaking 'Twilight,'" he said definitely, before hedging, "we will happily support [author] Stephanie Meyer if she decides to proceed in any way. But this will be the last one unless that should change."
At Comic-Con in San Diego on Thursday, the cast was in good spirits about a potential reboot.
When asked by MTV journalist Josh Horowitz about the reboot, co-star Jackson Rathbone joked that it would be called "The Amazing Twilight," a reference to the aforementioned Spider-Man film that arrived in theaters just five years after the last movie. Continued Rathbone, "Andrew Garfield is going to play all the roles. I can't wait to see what he does with Bella." (Kristen Stewart famously plays Bella Swan in the current "Twilight" series.)
Co-star Ashley Greene told MTV she was hoping to have more time to bask in the glow of the franchise, a reference to the benefits of being known for the billion-dollar series of films.
Even star Robert Pattinson reportedly made light of the possible reboot.
"I pity the person who would take over my part," he was quoted as saying at the press conference before the Hall H panel. "I would make a campaign against them!''
For more Comic-Con coverage, click here. To check out the MTV live stream of the event, head here.
HuffPost Entertainment will have more from the "Breaking Dawn" panel coming soon.
The last two films to debut at Comic-Con -- "Scott Pilgrim vs. the World" and "Cowboys & Aliens" -- wound up stumbling at the box office. Lionsgate is hoping the same fate doesn't befall "Dredd," the comic book reboot that the studio will debut in San Diego this week. Karl Urban stars as the title law-enforcer, with Olivia Thirlby playing his young partner. The first trailer for "Dredd" made it look like the popular Indonesian action film "The Raid," which could be good for the geek-crowd in attendance. "Dredd" film hits theaters this fall.

With "Breaking Dawn Part 2" hitting theaters in November, Summit Entertainment will bring the cast of "Twilight" to Hall H for one final time. Twi-hards, this is your moment. (Thursday, 12:45 p.m. PST)

Disney returns to Comic-Con for the first time since 2010 with a full slate of big projects ("Frankenweenie" and "Wreck-It Ralph" among them), but the most interesting of all is "Oz: The Great and Powerful." Directed by Sam Raimi -- behind the camera for the first time since 2009's "Drag Me to Hell" -- "Oz" is a prequel to "The Wizard of Oz," with James Franco, Mila Kunis, Rachel Weisz and Michelle Williams in starring roles. (Thursday, 2:15 p.m. PST)

Because Comic-Con would be nothing without some nostalgia, Lionsgate is bringing Sylvester Stallone and the retro cast of "The Expendables 2" to San Diego. Come for new footage, hope for a round-robin arm wrestling tournament. (Thursday, 4:45 p.m. PST)

Sony is bring a full load to Comic-Con ("Total Recall" and "Looper" will get footage-heavy panels), but the first look at "Elysium" is what you should keep an eye on. The film is Neill Blomkamp's follow-up to 2009's "District 9," with Matt Damon and Jodie Foster in lead roles. Fingers crossed for a trailer. (Friday, 4:35 p.m. PST)

Comic-Con's favorite son makes good! After the success of "The Avengers," Joss Whedon returns to San Diego for a Q&A panel, presented by Dark Horse Comics. (Friday, 5:30 p.m. PST)

The last time M. Night Shyamalan directed a film, it was the hilariously derided "The Last Airbender." He returns to the big screen with "After Earth," a 2013 release starring Will Smith and his son, Jaden Smith. Fox will debut footage from the film on Saturday in Hall H, but one has to wonder if the assembled film geeks -- a group that doesn't particularly like Shyamalan -- will approve. (Saturday, 10 a.m. PST)

Quentin Tarantino. "Django Unchained." Get excited. (Saturday, 11:30 a.m. PST)

Warner Bros. has a ton of great stuff at Comic-Con ("Man of Steel," Guillermo Del Toro's "Pacific Rim"), but the highlight will undoubtedly be Peter Jackson's panel for "The Hobbit." When footage from the film debuted at CinemaCon earlier this year, audiences were divided on the way it was shot (Jackson used new 48 frames per second technology to give "The Hobbit" a crisp, 3D look); will they be split again in San Diego?

No rest for the successful. Following "The Avengers," Marvel hits Comic-Con with early footage from "Iron Man 3."