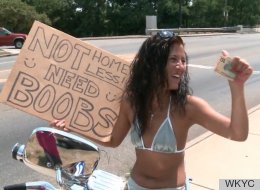 You've all seen those cheeky panhandlers wielding signs like "WHY LIE? I NEED A BEER" or "NEED MONEY FOR WEED," right? Now, an Ohio woman is bringing another brand of brutally honest begging to the streets: panhandling for her breast implant fund.
WKYC reports that Chrissy Lance, a 37-year-old mother from Akron, Ohio, is taking to the streets with a cardboard sign declaring, "Not homeless, need boobs!" With a few smiley faces, of course.
Lance, a bartender, university student and a single mom, needs $5,000 to get the implants, which she says will boost her self-esteem. She's standing at a busy intersection wearing a bikini and high-heeled boots, accompanied by a male friend who's serving as her bodyguard.
Is this... legal? Lance claims to have a required panhandling license that allows her to seek her breast implants alms.
At least she's going about it in an honest way -- back in May, a Phoenix woman was charged with fraud for faking breast cancer in order to collect donation money for a reconstructive surgery, which she then used to get her breasts enlarged purely for cosmetic reasons.
And before you start scoffing and/or rolling your eyes at Lance's busking, her plan is already working -- Lance says she made $46 in just two hours standing on the curb. At $23 an hour, we calculated that she'd need to panhandle for 220 hours -- a full month -- to reach her plastic surgery goals.
Dare to dream, we suppose.
We hope Lance's plastic surgery doesn't turn out the way these procedures did...
When Cosmetic Surgery Goes Wrong
Reality star Heidi Montag says she is happy with her new body, but there are certain things she can't do any longer, according to Us Weekly. Jogging -- since her new breasts are size E or F, and hugging. "I'm very weird about hugging people now -- [my body] is very fragile," she told US Weekly. She also told the tabloid she had a total of ten procedures, but she wasn't sure exactly what they were.

Maybe living with the Kardashians made Jenner care about his appearance a little too much. He has reportedly gone under the knife to thin his nose, define his jaw, and keep his skin taut. He hardly looks like the Jenner we saw on the Wheaties box years ago.

For Kim's wedding, Kris famously got a facelift on the E! reality show. However, then a skincare line called Frownies sued Jenner for broadcasting that she got a facelift when she was supposed to be promoting the anti-aging treatment.

You can tell he's a plastic surgery addict. However, it was his lip injects that really messed up this singer. They got infected and he wasn't treated properly. He has said about the incident, "My doctor punctured it and the yellow dishcarge that came out filled two mugs. I was put on antibiotics but my whole face began to swell. I was housebound for nine months and couldn't move my head - discharge would pour out."

Poor Reid has had many mishaps with plastic surgery. She had a botched stomach and lop-sided breasts that apparently were fixed in 2006.

When Dinora Rodriguez, 40, went under the knife for a breast enhancement operation, what she got was something out of a horror movie, the Daily Mail reported.

We think she looked perfectly fine, if not more natural, with her previous nose.

A New Jersey woman is suing her doctor, claiming she cannot fully close her eyes after a cosmetic procedure, according to CBS.

Her face lift and lip injections made her face look lopsided!

In 2008, a Korean woman addicted to plastic surgery injected cooking oil into her face, according to the Telegraph. After Moiku's story made headlines worldwide, viewers sent donations to enable her to reduce the size of her face. During the first procedure, surgeons removed 60 grams of foreign substance from her face and 200 grams from her neck, according to the Telegraph.

Twenty-year-old Claudia Aderotimi died after receiving an illegal butt implant in a Philadelphia hotel room, according to the Daily Mail. The British student thought a "butt enhancement" would start her hip-hop career, according to the Daily Mail.

A 63-year-old face surgery addict died after injecting heated beef fat around her mouth and chin, according to The Daily Mail. Janet Hardt died from a bacterial infection that weakened her colon, but the injection itself didn't cause death, a coroner said. In fact, Hardt had done this procedure several times in the past.

While we don't really have a problem with her famous breasts, we do think she should learn to let her face age gracefully.

Once again, stars need to learn how to age gracefully. The more plastic surgery one gets, the faker one looks.

Fabiola DePaula, 24, died after receiving an illegal liposuction procedure for $3,000, according to The Boston Globe. Luiz Carlos Ribeiro and Ana Maria Miranda Ribeiro were charged with practicing medicine without a licence, according to USA Today.

Laura Summers, 27, woke up after a £200 lip injection with lips that had swelled to four times their original size according to The Sun magazine. Summers has spent over £60,000 on plastic surgery procedures but has decided to stop, saying, "I played Russian roulette with my health and my looks and I will never do it ever again." (Instagram)

With each new facelift and botox treatment, Jackson looks less and less real.

She needs to stop getting lip injections.

Rubber cement facial injections? Superglue sutures? The Doctors weigh in on toxic and illegal cosmetic treatments that are making headlines across the country.
Want more? Be sure to check out HuffPost Style on Twitter, Facebook, Tumblr and Pinterest.