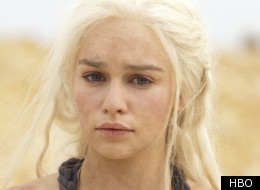 The "Game of Thrones" Comic-Con panel brought in a packed house to the massive Hall H. Author George R.R. Martin acted as moderator, talking to stars Richard Madden (who plays Robb Stark), Michelle Fairley (Catelyn Stark), Alfie Allen (Theon Greyjoy), Rose Leslie (Ygritte) and Emilia Clarke (Daenerys Targaryen) and producer Carolyn Strauss about Season 3.
We've got all the highlights from the panel, including the biggest announcement, which came at the very end: "Game of Thrones" Season 3 will premiere March 31, 2013 on HBO.
There was also some major Season 3 casting news, including Diana Rigg (yes, Emma Peele of the classic British series "The Avengers") as Lady Olenna Tyrell, "The Queen of Thorns"; Mackenzie Crook, as the wildling raider Orell, who "is a 'warg' or 'skinchanger,' with the ability to enter the mind of an animal and control its actions," according to HBO; Clive Russell as Bryndon Tully, a.k.a. The Blackfish; and 11 (yes, 11) others.
The panel kicked off with a highlight reel from Season 2. No new footage -- and not much nudity -- but still great for setting the mood. Keep reading for more goodness from Martin and the cast, and some inside scoop on which famous faces were there to watch the panel.
50 shades of "Game of Thrones" gray
Martin started his moderating duties by talking about the "gray characters" he's created in the "Game of Thrones" universe -- "It's not a simple world of heroes and villains. The characters have flaws." -- then asked Alfie Allen about Theon's darker storylines this season. "I don't think he's a villain. He's misguided, He's got issues, I can relate to that," Allen said. "Everyone's sort of flawed in it ... I don't think there's any straight heroes in 'Game of Thrones.'"
And even more gray
"I think she's got a huge amount of [insecurities]," Clarke said of Dany. "I think in Season 2 you saw her self doubt. She's so protective of her people and her dragons, she needs to be as strong as she can and not show her doubt. I think that's the beauty of the character -- it keeps her linked in and noble."
Let's talk about sex
Martin quickly turned the conversation to sex. "What's it like doing all those sex scenes?" Martin asked Allen. "It was fine. It was good. I enjoyed it ... I wanted to get in shape for it anyway. I wanted to feel like a warrior," Allen said, adding, "All the sex scenes he has are with prostitutes -- he's paying for it. It's not like he's a stud muffin!"
Martin then prompted Richard Madden about his own experiences doing sex scenes, but Madden admitted that he prefers violent scenes to sex scenes. "Swinging a sword is a lot more fun," Madden said, which the crowd got a big kick out of.
Where in the world is "Game of Thrones"?
On the subject of the show's many exotic shooting locations, Strauss said she believes it's the first TV show to shoot in four countries simultaneously: "I would probably put some money on it ... it's a phenomenally difficult show to do." Martin chimed in, joking that the Wolf unit is shooting in Belfast, the Dragon unit in Morocco and Croatia and the "Freeze Your Ass Off" unit in Iceland.
Big questions, still unanswered
Did Theon Greyjoy die last season? "We'll see what happens," Allen said. "What is dead may never die." Martin nudged Allen to tell a story about how the show's creators and writers David Beniff and D.B. Weiss tricked him. "Dave and Dan wrote a fake script for me -- they gave me a script and I got killed by Bran in it. I didn't say anything to them, I think they were expecting me to kick off about it." Apparently they kept upping the ante, teasing him about Theon becoming a zombie, and then (of course) a naked zombie.
Fair Khaleesi
Emilia Clarke, the only repeat panelist from last year (Martin joked that all the rest of them were scared off), said she's getting recognized a bit more these days without her wig on. "When it happens, it really happens," she said before telling a story about a woman whispering "Khaleesi" to her after doing a double-take as she stepped out of a department store elevator.
The magic of television
With the direwolves now large and in charge, they're obviously all CGI. "If it was real I'd be terrified," Madden said. "It's a fantastic silver ball on the end of a big wooden stick. It's a different challenge than actually having an animal. Emilia has lifesize replicas of the dragons, I just have a ball or a giant teddy bear wolf." And yes, they built scale models for Khaleesi's dragons in Season 2. "I got very protective of them," Clarke admitted.
It's all in the material
"It's incredibly relevant, that's why it's so brilliantly successful," Clarke said of the show's modern-day appeal. "It's dealing with issues that everyone's dealing with today. The whole thing is so beautifully written." Strausse agreed: "These characters are very complex human characters. I think that's what the show brings out -- it tells complex stories, really well told." And Martin denied that the story has political undertones: "I don't think my books are meant to be any veiled statement on politics ... It's about the human arc, the heart of the story is the characters."
Friends in high places
HuffPost TV's Laura Prudom spotted "Glee" stars Kevin McHale and Jenna Ushkowitz and "Hart of Dixie" star Scott Porter all sneaking in with special passes to see the panel. "The Big Bang Theory" star Kaley Cuoco also mentioned that she's a huge "Game of Thrones" fan at "The Big Bang Theory" Comic-Con panel earlier on Friday.
Check out our slideshow for more of our "must see" TV picks for San Diego Comic-Con 2012, and be sure to visit HuffPost TV over the next few days for our full coverage of the convention.
The Top TV Events Of Comic-Con 2012
When: Mon., July 9 to Sun., July 15 Where: Michael J. Wolf Fine Arts, 363 5th Avenue, San Diego, CA 92101 Why: If you're a fan of superheroes and villains, you won't want to miss this one-of-a-kind art show, presented to raise awareness and funds for the hunger crisis in the Horn of Africa. The unique pairing of comic-inspired art with photography features a large-scale piece of original artwork by Jim Lee, the legendary artist and DC Entertainment co-publisher, featuring the profile of Batman in a color palette inspired by the hues of Africa. More info here.

When: Wed., July 11 at 6 p.m Where: Ballroom 20 Why: Warner Bros. continue their annual Preview Night tradition with exclusive world premiere screenings of the pilot episodes of five of the most highly anticipated TV series of the 2012-13 television season: "666 Park Avenue," "Arrow," "The Following," "Revolution" and "Cult."

When: Thurs., July 12 to Sun., July 15 Where: Block No. 16 Union & Spirits, 344 7th Avenue (7th and J), San Diego CA, 92101 Why: For the second year running, Zachary Levi's Nerd Machine presents Nerd HQ, a cornucopia of gaming, technology and nerdtastic "Conversations for a Cause" -- intimate Q&As with some of the industry's biggest stars to benefit Operation Smile. "Conversation" tickets cost $20 and guests include Joss Whedon, Stan Lee, Damon Lindelof and the cast of "Psych." More info here.

When: Thurs., July 12 to Sat., July 14 Where: Bayfront Park between the San Diego Convention Center and the Hilton San Diego Bayfront hotel. Why: Free entertainment and a festival atmosphere from noon 'til 10 p.m., including movie screenings of "The Goonies," "Beetlejuice" and the "Friday the 13th" remake; a showcase featuring all six Batmobiles; live performances from The Bacon Brothers, "The Voice's" Tony Lucca and Frenchie Davis; and on-stage interviews with Warner Bros. talent including stars from "The Big Bang Theory," "Childrens Hospital," "Fringe," "Nikita," "Person of Interest," "The Vampire Diaries" and more. More info here.

When: Thurs., July 12, 6 p.m. - 9 p.m.; Fri., July 13, 1 p.m. - 9 p.m.; Sat., July 14, 11 a.m. - 6 p.m.; waves will run every 20 minutes. Where: Petco Park in downtown San Diego, CA. Why: Do you think you could survive a zombie apocalypse? Now's your chance to prove it as you navigate a ballpark infested with walkers and must climb, crawl, hide and slide your way to safety. "Survivor" tickets cost $75 and participants will receive an Exclusive Special Edition of the 100th Issue of "The Walking Dead." Less daring (but more bloodthirsty) fans can buy spectator tickets for $15. More info here.

When: Thurs., July 12 at 6 p.m. Where: Room 6BCF Why: Allow me to be self-serving for a moment, because yours truly is moderating this panel. But aside from representing HuffPost TV, the presentation also features the majority of the show's stellar ensemble cast, with Maggie Q, Shane West, Lyndsy Fonseca, Aaron Stanford and Melinda Clarke joining executive producer Craig Silverstein to spill a few secrets about Season 3.

When: Fri., July 13 at 12:05 p.m. Where: Hall H Why: For the first time ever in Hall H, the mega-popular TV series returns to Comic-Con for a special screening and a lively discussion. Will Howard "Froot Loops" Wolowitz return from space? Where do things stand with Penny and Leonard? And will unscheduled handholding affect "The Relationship Agreement"?

When: Fri., July 13 at 12:30 p.m. Where: Ballroom 20 Why: Calling all Browncoats! It's been 10 years since the crew of the Serenity first took flight in "Firefly" and for the first time ever, Science Channel will reunite Captain Mal Reynolds and the crew from the ship. Join Joss Whedon, Nathan Fillion, Adam Baldwin, Alan Tudyk, Sean Maher, Summer Glau, and many more for a trip down memory lane, some special surprises, and exclusive Science Channel giveaways. SHINY.

When: Fri., July 13 at 2:45 p.m. Where: Hall H Why: Last year's panel was one of the most buzzworthy of Com-Con and now that the series has graduated to Hall H, it's certain to be even bigger. Cast members attending include Alfie Allen, Emilia Clarke, Michelle Fairley, Richard Madden and Rose Leslie, with author George R. R. Martin moderating.

When: Fri., July 13 at 4:15 p.m. Where: Ballroom 20 Why: Entertainment Weekly presents the "Powerful Women In Pop Culture" (a.k.a. Women Who Kick Ass!) Q&A. The panel features Kristin Bauer van Straten ("True Blood"), Sarah Wayne Callies ("The Walking Dead"), Kristin Kreuk ("Beauty and the Beast"), Nikki Reed ("Twilight Saga: Breaking Dawn Part 2"), and Anna Torv ("Fringe"). The fan-favorite females will open up about the power and privilege of playing characters that have redefined the rules for women.

When: Sat., July 14 at 1 p.m. Where: Indigo Ballroom, Hilton San Diego Bayfront Why: "Fan Favorites" brings together stars from TV's hottest shows for a lively discussion filled with behind-the-scenes scoop. Panelists (subject to change) include Nathan Fillion ("Castle"), David Giuntoli ("Grimm"), Joel McHale ("Community"), Tyler Posey ("Teen Wolf"), Maggie Q ("Nikita"), Matt Smith ("Doctor Who") and more.

When: Sun., July 15 at 10 a.m. Where: Hall H Why: Fringe returns to Comic-Con for its farewell panel to celebrate its fifth and final season. Series stars Anna Torv, Josh Jackson, Lance Reddick, Blair Brown, Jasika Nicole and John Noble, along with executive producer J. H. Wyman, offer a Q&A with fans and an exclusive video presentation. Following the panel is another cult hit, "Supernatural," featuring new showrunner Jeremy Carver, writer Ben Edlund, and cast-members Jensen Ackles, Jared Padalecki, Misha Collins, Jim Beaver and Mark Sheppard.