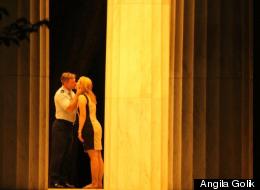 Budding photographer Angila Golik was out practicing her favorite hobby the night of July 2 while visiting Washington, D.C. when she spotted a touching scene unfolding at the Washington War Memorial.
Golik, in town from Carson City, Nev. for an education conference, spotted a couple standing right in the center of the lighted pavilion, and she wondered if the man was preparing to propose.
She was right, and before her eyes, he kneeled down and popped the question.
UPDATE: The couple has been located but has asked to remain anonymous. Click here for more info on their story.
Golik snapped a few photos, hoping they would turn out. When she reviewed them on her computer back at her hotel, she decided "the photos belong to the couple," she told HuffPost Weddings. She's now attempting to find out who the newly-engaged pair is so she can give them the photos of their special moment.
She contacted Andrews Air Force Base about placing an ad with the photos in their newspaper, but without permission from the couple, the base can't use the pictures.
"That is my goal," she told HuffPost Weddings. "Find the couple and give them the photos of a magical night."

If you know the couple pictured you can contact Golik at adgolik32@gmail.com.
Click through the slideshow below for more proposal videos:
10 Viral Wedding Proposal Videos
Matt Still proposed to his girlfriend Ginny Joiner in this movie trailer--in front of an audience of more than 100 cinema-goers. Matt's elaborate proposal was even covered on CNN. The video, posted in May 2011, has been watched 19 million times to date.

Brooke and Josh got engaged on a rooftop, but not before Josh tripped and plummeted four stories! This death-defying proposal was posted in July 2011. More than 5.6 million people have watched it.

It's unclear whether this Disneyland "Fairy Tale" proposal is genuine or just a PR stunt. Regardless, nearly 4.2 million people have watched the video since it was posted in June 2009.

This guy proposed to his girlfriend, Claudette, with a fully-choreographed flash mob in the middle of New York's Madison Square Park. Apparently people love a choreographed public display of affection--3 million people have watched this video since it was posted in May of 2010.

Charles proposed to his girlfriend Ali on a trip to Spain in October 2009. To date, nearly 2.7 million people have shared in their happy moment.

This proposal didn't go quite as well as planned. The awkwardness begins at 1:20--try not to cringe. The unfortunate October 2008 video has been viewed 2.4 million times to date.

This surprise proposal didn't start out very well--Nikki is convinced that her boyfriend Justin is cheating on her. Thankfully, the proposal was part of the Fox reality TV show "Mobbed". More than 1.5 million people have watched this clip since it was posted in June 2011 (the show returns to Fox Nov. 23).

The bride-to-be isn't featured in this video from May 2008--but she did say yes. More than 1.1 million people have watched this proposal.

In this video from January 2007, a Fox News reporter spoils Boise State footballer Ian Johnson's surprise proposal to his girlfriend. But not to worry, the head cheerleader does say yes. More than 1.1 million people have watched it happen.

Ouch. This guy got rejected at a baseball game. He really feels the sting at 0:16. Since August 2009, more than 1.1 million people have shared his pain.
Keep in touch! Check out HuffPost Weddings on Facebook, Twitter and Pinterest.