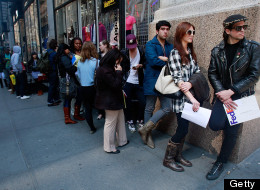 From 24/7 Wall st.: A weak job market, along with the high cost of higher education, have made it difficult for the average college graduate in America. Approximately 53 percent of college graduates under the age of 25 are either jobless or primarily working jobs that don't require a college degree, according to an April study by Drexel University.
Given the challenges millennials face, Moving.com identified the best metropolitan areas for 18 to 29 year olds, taking into account affordable housing, low unemployment and access to nearby attractions and education. According to the report, these cities are far better for young people struggling with the economy than others.
Read: The 10 Best Cities for Millennials
While the cities on this list do not have the lowest rents, home prices or unemployment, they have the best combination of all three. According to the data provided by Moving.com, housing costs in these areas are certainly affordable. And considering they are in generally large cities — where average costs can often be high — they are a bargain.
Unemployment rates in these regions are also among the lowest in the country. The U.S. unemployment rate in May was 8.2 percent. In each of these regions, the unemployment rate is 7.6 percent or less, and the majority have an unemployment rate below 7 percent. Oklahoma City's jobless rate is just 4.5 percent.
These cities have the best practical options and also provide ample entertainment and cultural opportunities. Steve Berkowitz, CEO of Move.com, explained, "The cities on this list encompass the best of both worlds — they have more affordable housing options and lower unemployment rates when compared to many big cities in America, as well as great nightlife, universities, and many things to do."
24/7 Wall St.'s examination of education attainment data from the Census Bureau indicates that these cities have higher-than-average proportion of residents with bachelor's and graduate degrees. Most of the cities on this list have at least one major college or university, and some have several.
Moving.com, a leading online resource for local, long-distance international moving needs, identified the best cities for millennials by identifying states with the highest inflow of new residents between 2008 and 2009, based on the U.S. Census Bureau's Geographical Mobility report. Moving.com then identified the cities and metropolitan statistical areas in those regions that had low unemployment as well as relatively low rent and home prices. All values were from May of this year. Some of the regions identified by Moving.com are cities, and some are MSAs, which include major cities and their surrounding area. In addition to the data compiled by Moving.com, 24/7 Wall St. reviewed rates of commuters who walk or use public transportation, median income and educational attainment, all from the U.S. Census Bureau for 2010, the most recent available year. In those instances where Moving.com considered a city instead of an MSA, 24/7 Wall St. used MSA data from the Census Bureau as a proxy.
Here are the best cities for millenials:
Best Cities For Millenials
Unemployment: 7.2 percent Average rent price: $764 Median home list price: $159,000 Almost 10 percent of homes in Tallahassee were built in 2005 or later, according to 2010 Census data, which is among the highest proportions among U.S. metropolitan areas. Higher education is highly accessible in the city for millennials seeking a degree. The area is home to universities such as Florida State, Flagler College, and Florida A&M. Near the Gulf, Tallahassee has a great nightlife with popular bars and venues for music lovers. Read more at 24/7 Wall St.

Unemployment: 7.6 percent Average rent price: $963 Median home list price: $239,000 Located just 30 miles from Seattle, Tacoma provides millennials with as much as 35 percent lower rent prices and homes that are about $100,000 less than Seattle. The metropolitan area of Tacoma includes Seattle and Bellevue, where the 10th-highest proportion of workers commute by public transportation. The city boasts its sustainability efforts, arts, and other attractions. According to TacomaCulture.org, the city's cultural website, Tacoma is home to classical music groups, theatre and an opera company. Read more at 24/7 Wall St.

Unemployment: 7.2 percent Average rent price: $834 Median home list price: $185,500 Phoenix real estate suffered from the recession. As of the first quarter of 2012, 55.5 percent of homeowners had underwater mortgages. Millennial sports fans will enjoy the city because of its active MLB, NHL, and NBA teams. With one of the highest proportions of households with children under 18, Phoenix has 29 school districts and is a good place for a millennial who plans on starting or moving a family. Read more at 24/7 Wall St.

Unemployment: 6.6 percent Average rent price: $1,030 Median home list price: $143,250 Pittsburgh has one of the largest public transportation systems in the U.S., serving over 200,000 riders per day as of 2011. Millennial residents can enjoy professional sports teams -- Pittsburgh is the hometown of the Steelers, Pirates and Penguins -- as well as pursue higher education from one of dozens of schools in the area, including U. Pitt, Carnegie Mellon, Duquesne and others. Pittsburgh also has been regarded as one of the best arts and culture destinations in the U.S. for a decade. According to Moving.com, millennials might enjoy a night out at South Side or Station Square districts for the best bars and clubs. Read more at 24/7 Wall St.

Unemployment: 4.5 percent Average rent price: $707 Median home list price: $154,900 As of May, Oklahoma City had an unemployment rate of just 4.5 percent, well below the national jobless rate of 8.2 percent. The city's high employment and cheap housing present opportunities for millennials. The city is also a good location for nightlife, according to the report. It has several minor league sports teams, as well as the NBA's Oklahoma City Thunder. On top of its several attractive qualities, the city also hosts several universities. Read more at 24/7 Wall St.

Unemployment: 6.4 percent Average rent price: $1,034 Median home list price: $276,000 Located in the Finger Lakes region of New York, 16.5 percent of Ithaca's commuting residents walk to work -- the highest proportion in the U.S. as of 2010. Almost three-quarters of households in Ithaca earned more than $50,000 annually, the eighth-highest income of all 366 cities in the study. More than 93 percent of residents are covered by health insurance, which is the eighth-highest rate among all cities in the study. The city, which is home to both Ithaca College and Cornell University, has the highest percentage among MSAs of residents over 25 with a graduate or professional degree at 31.2 percent. With its ample education opportunities, outdoor activities and an environmentally conscious metro area, the city is attractive to millennials. Read more at 24/7 Wall St.

Unemployment: 6.8 percent Average rent price: $1,168 Median home list price: $204,900 As of 2010, 35 percent of households in the Dallas metro region had a child under 18, one of the largest proportions in the country.The city was rated by Areavibes as one of the 10 best cities to live in the U.S., citing Dallas's more than 7,000 restaurants, and its sizeable art district and low rental costs. The area is also home to several major universities, including the University of Texas and the Art Institute of Dallas. Read more at 24/7 Wall St.

Unemployment: 5.7 percent Average rent price: $1,043 Median home list price: $283,700 For millennials looking for a job out west, Corvallis, Ore., has an unemployment rate that is 2.5 percent lower than the national average. More than 10 percent of people are able to walk to work, the second highest rate of all U.S. metropolitan areas as of 2010, and the city had the highest proportion of commuters traveling by bike in 2009 at 9.3 perent. The mean travel time to work is just over 17 minutes for commuters, while the U.S. mean commuting time is more than 25 minutes. Oregon State University is located in Corvallis, providing millennials with higher education opportunities. As a result, 26 percent of residents hold a bachelor's degree, while 22 percent have a graduate degree, the fifth highest in the nation's metropolitan areas. Read more at 24/7 Wall St.

Unemployment: 7.4 percent Average rent price: $1,260 Median home list price: $219,900 Some 4 percent of Chapel Hill, N.C., residents use public transportation in their commute and 3.7 percent walk -- both rates among the highest in the country and likely contributing to the attractiveness of the city. In addition, the city is home to UNC Chapel Hill, the oldest public university in the U.S., which along with Raleigh (NCSU) and Durham (Duke) form North Carolina's "research triangle." Consequently, nearly 20 percent of the metro region's residents have a graduate degree, nearly double the national average. The city's appeal does not end there. According to Moving.com, the city is full of attractions, including museums, arboretums and a variety of restaurants. Read more at 24/7 Wall St.

Unemployment: 6.5 percent Average rent price$798 Median home list price: $174,900 Athens is a college town, home to the University of Georgia, providing higher education opportunities for millennials, along with culture and sports. Nature centers, parks and zoos offer a number of outdoor opportunities. The city has a median list price that is $20,000 less than the national median and an unemployment rate that is 2.4 percentage points lower than the rest of the state -- Georgia has the seventh-highest unemployment rate in the country. Read more at 24/7 Wall St.
: