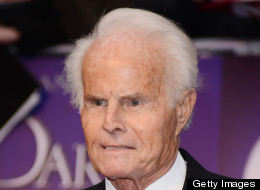 Richard Zanuck, an Oscar winning producer and former president at Twentieth Century Fox, died on Friday after suffering a heart attack, according to various reports. He was 77.
Deadline.com was the first to announce Zanuck's death.
Zanuck was the son of famed studio mogul Darryl Zanuck, but carved his own niche in Hollywood. He famously produced Steven Spielberg's "Jaws" as well as 1989 Best Picture winner "Driving Miss Daisy." Zanuck was also responsible for "Cocoon," 2001's "Planet of the Apes," "Charlie and the Chocolate Factory," "Sweeney Todd," "Alice in Wonderland" and this year's "Dark Shadows." Under Zanuck's watch at Fox, the studio released films like "M*A*S*H," "The Sound of Music" and "Butch Cassidy and the Sundance Kid."
One of the most influential producers in Hollywood history, Zanuck told Variety in an interview earlier this year that the position had lost some of its luster.
"I think there's been a devaluation of the concept," he said. "Maybe too many people have used the term 'producer' when they weren't qualified. [...] A producer should contribute from the very beginning until the very end, in all aspects. I'm there at the set every day, on every shot. [...] There are producers who don't even watch the dailies, who have some contact with the project and get their name slapped on there."
Zanuck's death came as a surprise to many. He had been working on a new movie called "Hidden" with Alexander Skarsgard.
"As of yesterday, he was in good spirits. This is totally unexpected," producer Roy Hill told the Los Angeles Times. "I talked to him two days ago and he seemed fine."
For more on Zanuck's life, head over to Variety.
We Remember: 2012's Lost Celebs/Entertainers
"The Green Mile" actor Michael Clarke Duncan died at the age of 54 on Sept. 3, 2012 in a Los Angeles hospital after nearly two months of treatment following a July 13, 2012 heart attack.

"Sesame Street" puppeteer Jerry Nelson, shown here with "Sesame Street" character Count von Count in New York in June 2012, died at age 78 on Aug. 23, 2012, in Massachusetts after battling emphysema.

Actress/comedienne Phyllis Diller, who was best know for her stand-up act, died at the age of 95 on Aug. 20. 2012 in Los Angeles.

"The Music Man" star died at the age of 74 in Dec. 2012.

Director Tony Scott, whose projects include "The Hunger," "Top Gun," "Enemy of the State," died after jumping off a bridge in Los Angeles on Aug. 19, 2012.

"San Francisco (Be Sure to Wear Flowers in Your Hair)" singer Scott McKenzie, seen here in the center with "The Mamas And The Papas" 1967, died on Aug. 18. 2012, after battling Guillain-Barre Syndrome, a disease that affects the nervous system.

A 1980 file photo provided by CBS shows actor William Windom, who won an Emmy Award for his turn in the TV comedy series "My World And Welcome To It," died Aug. 16, 2012, of congestive heart failure at his home in Woodacre, north of San Francisco. He was 88.

This June 8, 2008 file photo shows actor Ron Palillo at the TV Land Awards in Santa Monica, Calif. Palillo, best known as the nerdy high schooler Arnold Horshack on "Welcome Back, Kotter," died Tuesday, Aug. 14, 2012, in Palm Beach Gardens, Fla., of an apparent heart attack. He was 63.

This Oct. 7, 2008 file photo shows actress Lupe Ontiveros at Padres Contra El Cancer's 8th annual "El Sueno de Esperanza" benefit gala in Los Angeles. Ontiveros, the popular Texan actress known for her portrayal of Yolanda Saldivar in "Selena," died Thursday, July 26, 2012, of cancer at the Presbyterian Hospital in the City of Whittier, Calif., according to friend and comedian Rick Najera. She was 69.

In this Aug. 11, 1986 file photo, actor Sherman Hemsley poses for a photo in Los Angeles. The manager for Hemsley says the late star of the television sitcom ""The Jeffersons"" refused treatment for lung cancer in the weeks before he died of what a coroner says were complications from the disease on July 24, 2012. (AP photo/Nick Ut, File)

In this Feb. 14, 2004 file photo, Academy President Frank Pierson arrives at the Academy of Motion Picture Arts and Sciences, Scientific and Technical Achievements Awards dinner in Pasadena Calif. Pierson's family announced that he died of natural causes on Monday, July 23, 2012 in Los Angeles after a short illness. He was 87.

Deep Purple's Jon Lord, seen here in 2004, died at age 71 on Monday, July 16, 2012, after battling pancreatic cancer.

This May 1986 file photo shows country music singer Kitty Wells in Nashville, Tenn. Wells, the first female superstar of country music, died at the age of 92 on Monday, July 16, 2012. The singer's family says Wells died at her home Monday after complications from a stroke. Her recording of "It Wasn't God Who Made Honky Tonk Angels" in 1952 was the first No. 1 hit by a woman soloist on the country music charts. Other hits included "Making Believe" and a version of "I Can't Stop Loving You." (AP Photo/Mark Humphrey, file)

Perhaps best remembered for his Oscar-winning performance in the film "Marty", Borgnine continued to act until his death, voicing a character on "SpongeBob SquarePants" and earning an Emmy Nomination on the TV series "ER." He was 95 when he passed away on July 8 due to renal failure.

Andy Griffith, the star of beloved television programs "The Andy Griffith Show" and "Matlock", died of a heart attack on Tuesday, July 3. He was 86.

The multi talented musician, composer, and actor who memorably starred on the television series "My Three Sons" lost his battle with cancer on June 27. An original Mouseketeer, Grady was 68 he passed away.

Director, author, journalist, playwright, HuffPost blogger, and three-time Academy Award nominated screenwriter, Nora Ephron passed away on June 26 after a secret multi-year battle with acute myeloid leukemia. With genre defining films like "Sleepless In Seattle", "You've Got Mail", and "When Harry Met Sally", Ephron, 71, left an indelible mark on the film industry.

Comedienne most famous for her hilarious roles on TV shows "Moesha" and "The Parkers", Wilson lost her battle with cervical cancer on June 14. She was 48.

This Nov. 5, 1971 file photo shows actress Ann Rutherford in New York. Rutherford, who played Scarlett O'Hara's sister Carreen in the 1939 movie classic "Gone With the Wind," died at her home in Beverly Hills, Calif. on Monday, June 11, 2012. She was 94. (AP Photo/HF)

Co-founder of The Bee Gees, Gibb was 62 when he lost his battle with colon cancer on May 20.

From AP: Bob Welch, a former member of Fleetwood Mac who went on to write songs and record several hits during a solo career, died June 7, 2012, of a self-inflicted gunshot wound, police said. He was 65.

The Queen of Disco lost her battle with cancer on May 17. Summer, 63, earned that title with dance hits like "Last Dance", "MacArthur Park", and "Hot Stuff".

In this Feb. 13, 2011 file photo, Chuck Brown arrives at the 53rd annual Grammy Awards in Los Angeles. Brown, who styled a unique brand of funk music as a singer, guitarist and songwriter known as the "godfather of go-go," died Wednesday, May 16, 2012 after suffering from pneumonia. He was 75.

Mitchell Guist, who appeared in segments of the "Swamp People" with his brother, Glenn, died after collapsing Monday, May 14, 2012 while working on a houseboat he was building on Belle River.

Best known as one of the founding members of the trailblazing hip-hop group the Beastie Boys, Yauch, also known by his stage name MCA, was also a film director and human rights activist. At age 47, Yauch unfortunately lost his almost three year battle with cancer on May 4.

George Lindsey, seen here in character as Goober Pyle on "The Andy Griffith Show" in 1982, died early Sunday, May 6, 2012. He was 83.

In this May 15, 2010 photo, Levon Helm performs on the mandolin during a Ramble performance at Helm's barn in Woodstock, N.Y. Helm, who was in the final stages of his battle with cancer, died Thursday, April 19, 2012 in New York. He was 71. He was a key member of The Band and lent his distinctive Southern voice to classics like "The Weight" and "The Night They Drove Old Dixie Down."

Radio personality, TV host, and beloved producer, Dick Clark died of a massive heart attack on April 18. The host of classic programs such as American Bandstand and Dick Clark's Rocking New Years Eve was 82.

Lead singer of hit 60's band The Monkees, Jones' heartthrob status was cemented with hits like "Day Dream Believer" and "I Wanna Be Free". He died at age 66 on February 29 after suffering a heart attack.

With perhaps one of the greatest voices of her generation, Houston was a multi-Grammy winning singer and actress left an indelible mark on both the pop and R&B genres. Houston's well documented struggles with drug addiction are thought to have contributed to her unexpected and untimely demise at age 48 on February 11.

Cornelius, creator and host of the long-running, groundbreaking TV dance show "Soul Train," unfortunately committed suicide Wednesday morning, Feb. 1. He was 75.

In this Sept. 17, 2005 file photo, actor Ian Abercrombie is shown during the British Academy of Film and Television Arts/Los Angeles and the Academy of Television Arts & Sciences third annual Emmy Nominees Tea Party in Los Angeles. Abercrombie, a veteran British stage and screen actor whose TV roles included Elaine's boss Mr. Pitt on "Seinfeld" and Professor Crumbs on "Wizards of Waverly Place," died Thursday, Jan. 22, 2012 at a Los Angeles hospital from complications of kidney failure. He was 77.

The "At Last" crooner passed away on January 20 due to complications from leukemia. James, also known as The Matriarch of R&B, was 73.