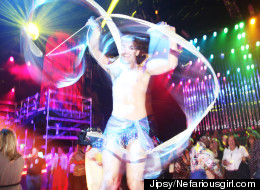 Is it a party? Maybe. Is it a club? Close. Is it a musical? Sort of.
It's not easy describing "The Donkey Show." What it is, its William Shakespeare's "A Midsummer Night's Dream" played out on the Arsht Center's Ziff Ballet Opera House stage, which is transformed into a nightclub for guests to live their own fabulous disco fantasy. From the moment you are on line to get in, "Mauricio the Doorman" is already giving you the infamous "club door" treatment but allows you through the velvet ropes and onto the show.
The sounds of the best of '70s disco lure you in as the DJ plays hit after hit after hit. Go-go dancers, dancing queens and all these club characters welcome you to what is a club complete with a full bar and VIP tables. Once the show gets started, you will realize you have been in the show all along. The story moves to the lyrics of the music and theatrics seem to happen at all corners of "the club." Watch from the sidelines or be part of the show, chances are, something will happen right in front of you or with you. (Story continues below.)
Trying to follow the story while doing the hustle gets tricky but once you stop worrying about that, you start to have fun. Once the story is over, the DJ welcomes you to stay and dance as I found myself doing alongside KC of KC and the Sunshine Band.
"It's a perfect fit," the Miami native shared. "We originated that sound, so to come to the AAC right here on this stage, the largest production they've ever had on this stage, to celebrate the timeliness of that music is just great."
Starting Sunday, August 5, KC will be hosting Sunshine Sundays and maybe you too can boogie, oogie, oogie with the legend himself.
And if you want to know why they call it "The Donkey Show," you'll have to see it for yourself.
Dance floor tickets are priced from $45-$60 on Fridays and Saturdays and VIP seats from $60-$75 (18 and up only), and a $10 discount is available to those purchasing tickets to the first 5 preview performances, July 13 to 15. Grab tickets online or through the Arsht Center box office at 305-949-6722. -- Jipsy
WATCH: Behind the scenes of "The Donkey Show":
Share +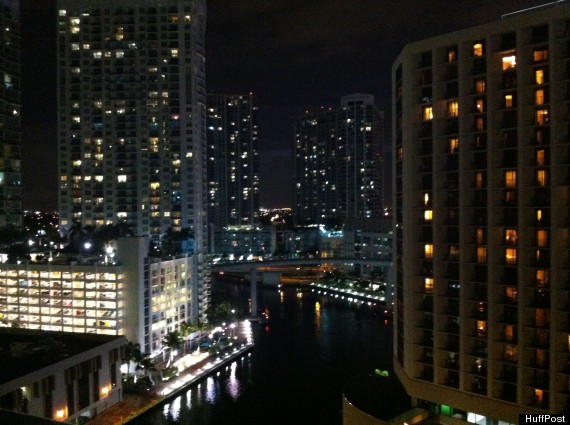 Perched on the 16th floor of the Epic Hotel with a view of the Miami River, Area 31 is the kind of aerie we love -- the kind that offers stunning views and delectable, locally-inspired fare in equal measure.
Fortunately for downtown diners, after grabbing a few months' beauty rest, the restaurant reopened last month with an updated interior and a new executive chef at the helm. Wolfgang Birk, who previously served as the opening executive chef at Casa Casuarina and Cooper Avenue, now heads up a team that includes charming lead bartender Dean Feddaoui and master sommelier Emily Wines.
On Birk's new menu: chilled melon and cucumber soup (), greens from Homestead's famed Paradise Farms (), fluke topped with caviar (), crab cakes (), and bone-on ribeye with crisp yucca potato and bone marrow bordelaise (). The lobster wonton ravioli () is a winner, as is roasted lamb (), but nowhere was Area 31's new direction toward local, farm fresh raw materials more evident than in a perfectly dressed baby beet and fried goat cheese salad with blood orange and marcona almond shavings (). It's a stunning combination.
Inside, Area 31 is chic yet comfortable, dressed in neutrals to show off floor-to-ceiling windows and a massive wine installation. On the terrace, the dramatic view's the thing. Just beyond the table is a twinkling expanse that makes Area 31 feel like the sort of place in which secret lovers in films (and we mean that in a good way). Surrounding towers sprouting across the river in Brickell give the open air terrace a cozy feel, but views up the Miami River and out to Biscayne Bay don't let diners forget there's no other place like this in the city.
When to go: in addition to dinner (6 p.m. - 10 p.m., until 11 p.m. on Fridays and Saturdays), Area 31 is open for lunch from 11:30 a.m. - 3 p.m. with time-friendly fare including a brisket blend burger () and crispy mahi fish taco (). The Terrace Lounge features a DJ on Thursday and Friday nights.
Loading Slideshow
Baby Beet and Goat Cheese

Chilled Sweet Pea Soup

Cobia Burger

Crudo Tasting

Fluke Crudo

Lobster Wonton Ravioli

Lobster Wonton Ravioli

Octopus

Panna Cotta

Seared Diver Scallop

Seared Diver Scallop

Seared Local Grass Fed Beef

Seasonal Tomato Flatbread

Executive Chef Birk

Chef Birk

Area 31