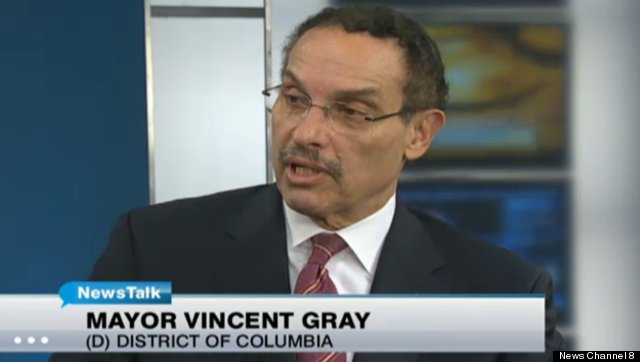 During his interview with DePuyt, Gray was judicious with what he said about the ongoing investigation and the recent guilty pleas stemming from the federal probe, reiterating numerous times that he and his lawyers want the investigation to run its course. "We hope this will come to a conclusion very soon."
The mayor admitted the tightrope he's walking in public.
"It's a tough line to walk," Gray said.
"Frankly, there would be things I would like to talk about," the mayor continued. "I know there are questions about this ... I have questions about this ... All these details will come out."
The mayor shot back at three members of the D.C. Council -- Muriel Bowser (D-Ward 4), David Catania (I-At-Large) and Mary Cheh (D-Ward 3) -- who on Wednesday called on Gray to resign.
Gray said that Catania, who at one point this week said that "mayor has been reduced to a joke," was a "Republican turned Independent" who has never supported him.
"Bowser wants to be mayor," Gray said, citing ongoing chatter about her political ambitions. "I'm not surprised at all."
But Gray said he was disappointed by the call for resignation coming from Cheh, saying that as a constitutional scholar," the George Washington University professor should respect the principle of "innocent before being proven guilty."
The mayor has not been charged with a crime.
But Cheh, in her statement calling on Gray to resign, said:
Whether or not he knew of the massive election fraud that was taking place in his name, he is responsible for it. I cannot overemphasize the sadness that accompanies this action on my part.
Phil Mendelson, the D.C. Council's interim chairman, this week described the calls for the mayor to resigns as being premature. Mendelson, who was picked to lead the council after Kwame Brown (D) resigned and admitted guilt to federal bank fraud charges, would be the next in line to be mayor should Gray exit the post.
Mendelson told The Washington Post that he does not want to be mayor but is trying "to be ready for whatever I have to do."
Former Mayor Marion Barry (D), who represents Ward 8 on the council, told the Examiner "Hell no" when asked about whether the current mayor should resign. "I believe in the judicial process. I believe in the Constitution."
Gray has urged the public to separate the activities from his campaign from the accomplishments of his administration, including a low crime rate, continued development and the city's stable fiscal house.
"I wish I could have been in the campaign office more extensively," Gray told DePuyt on Friday.
Should D.C. Mayor Vincent Gray Resign?
This is a developing story ...
SUBSCRIBE TO & FOLLOW THE MORNING EMAIL
The Morning Email helps you start your workday with everything you need to know: breaking news, entertainment and a dash of fun. Learn more