This week at HuffPost Arts we learned the secret of who purchased "The Scream," the way to creep on naked women at a museum and how to quickly make $368,000 as a nine-year old. It was an informative week, to say the least.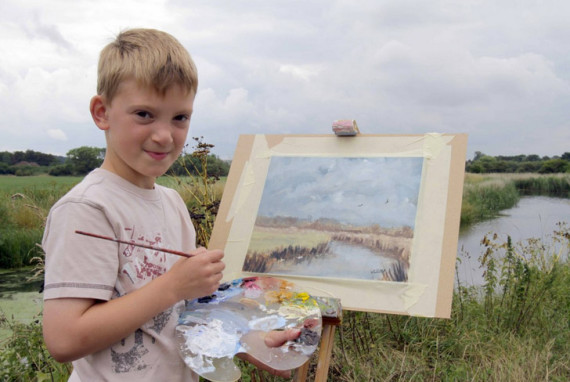 Kieron Williamson sold 24 paintings in about 15 minutes for the cool sum of £250,000 ($386,000), the Daily Mail reports. This by itself wouldn't be incredible news, except for the fact that the artist is only nine years old.
The youthful English painter might be four years older than the pint-sized "action" painter Aelita Andre, but his eye is apparently more discerning than his precocious counterpart's. Eschewing lesser quality materials, Williamson started painting in oil as well as watercolors from the tender age of five, creating bucolic scenes of the English countryside for a hungry group of domestic and international buyers. His mother writes on his website: "Kieron has always insisted on good quality adult art materials. He's never been happy with poster paints!" And why would he be, when his paintings sell for thousands?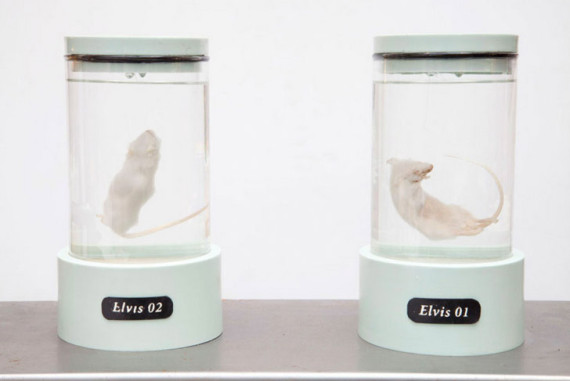 Most people wishing to bring back the spirit of Elvis visit his shrine in Graceland or cozy up to a velvet-clad impersonator in Vegas. Artist Koby Barhad took a different approach, using Elvis' DNA to genetically engineer two mouse-Elvis hybrids. Talk about taking care of business.
Barhad told Wired (UK): "I've always been fascinated with humanity's eternal need to quantify and define life. Be it biology or physics, philosophy or biography, psychology or fiction -- from Frankenstein to the "god particle." In my research I came across a private lab service that offers "mice" that are "genetically modified for your needs." From that point I was just wondering whose behavioural mice model I would like to design. That, of course, led me to e-Bay, the DNA sequencing labs and to historical and contemporary behaviouristic science."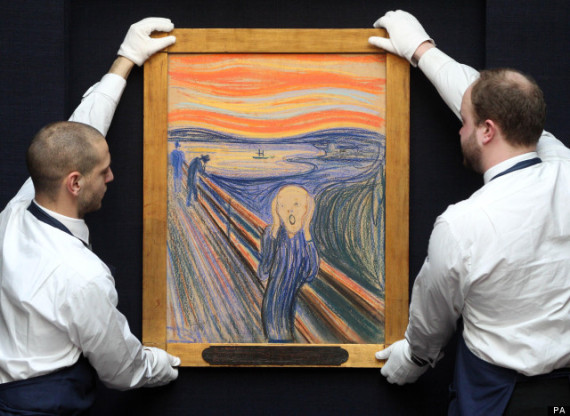 The mystery buyer behind the record-breaking sale of Edvard Munch's "The Scream" has been identified as billionaire Leon Black. The Wall Street Journal confirmed on Wednesday that Black, a New York-based businessman and long-time art collector, was behind the $120 million buy that made Munch's work the most expensive piece of art ever sold at auction. However, in a phone call this morning, a Sotheby's representative told The Huffington Post that they still have no comment on the identity of the buyer.
Auction houses do not require winning bidders to publicly disclose their identities, so the art world had been anxiously awaiting the owner to reveal himself ever since the 12-minute sale at Sotheby's in May. Black, who is the lead partner of the investment firm Apollo Global Management, has not yet been reached for comment. But the WSJ cited a number of sources close to the collector who claim that the American mogul, whose net worth is $3.4 billion, is the one.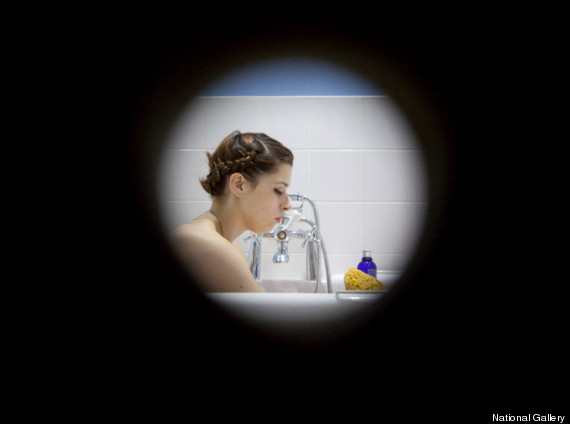 London's National Gallery is known for housing the most talented and famed artists through the years, so their upcoming homage to Venetian master Titian is, though exciting, quite predictable. However, what is utterly unexpected is the tribute by Turner prize-winning artist Mark Wallinger, simply dubbed "Diana." In the piece, museum goers fumble through a dark room, looking through peepholes to spy on naked women in a bathroom. Shocking, awkward, transgressive, thoughtful and absurd, it is a piece Renaissance art buffs can surely enjoy with their favorite creepy uncle.
The ideas of privacy and voyeurism are revived in a contemporary setting through a live performance which makes every visitor guilty of Actaeon's voyeuristic habit. Viewers spy into a modern bathroom through cloudy keyholes or Venetian blinds, watching Diana brush her hair, get in the bath, and act "goddess-ish," the artist told the Times of India. Six women, all named Diana in real life, alternate playing the role of Diana in art, switching off every two hours.
I grew up in Clemson, South Carolina. It was a terrific way to grow up -- we shopped at Judge Keller's General Store, we watched movies at the Astro Theatre on Main Street, the sheriff's car wasn't above being used as the town taxi cab. And, while a bagel was as foreign as an alien spaceship, life was good.

When I was twelve, I was lucky enough to find the Oconee Community Theatre. For all of us who were part of that community, it was a link to a broader cultural world. Today, both my brother and I make our living in the arts. And it all started for us with that small community theater, which stays afloat with local support, the herculean efforts of volunteers and periodic small grants from the South Carolina Arts Commission.
Have a wonderful weekend! Thanks for reading.
SUBSCRIBE TO & FOLLOW CULTURE SHIFT
Every Friday, HuffPost's Culture Shift newsletter helps you figure out which books you should read, art you should check out, movies you should watch and music should listen to. Learn more