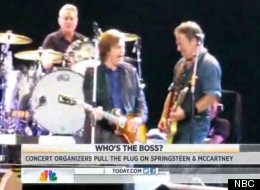 Concertgoers were in for quite the surprise when Bruce Springsteen brought Sir Paul McCartney on stage during his finale in London's Hyde Park. The legendary rockers performed several Beatles hits together, but their performance was cut short when concert organizers suddenly pulled the plug.
What gives? Apparently Springsteen was three hours into his performance before McCartney joined him on stage. The pair was shut down when they exceeded the noise curfew previously set in place and after authorities received complaints from a neighboring community.
London mayor Boris Johnson commented on the situation, saying, "If they had called me, my answer would have been to jam on in the name of the Lord!"
Amen to that, Boris. Watch the video above for more on this legendary collaboration, and to see one E Street Band member's reaction to the unexpected interruption.
EARLIER ON HUFF/POST50: 25 Rock Stars Over 50
Paul McCartney performs at Yankee Stadium on July 15, 2011 in New York City.

Singer Debbie Harry performs during the kickoff of the first annual True Colors Tour at the MGM Grand Garden Arena June 8, 2007 in Las Vegas, Nevada.

Bruce Springsteen performs at the San Mames stadium, on July 26, 2009, in the northern Spanish Basque city of Bilbao, during his first concert of the Spanish tour.

Madonna performs on stage during her "Sticky and Sweet" tour concert on September 1, 2009 in Tel Aviv's Yarkon Park.

Prince (born Prince Rogers Nelson) performs on stage at the Stade de France in Saint-Denis, outside Paris, on June 30, 2011.

Cher performs part of her "Farewell... Never Can Say Goodbye Tour" at The H.P. Pavilion on January 21, 2005 in San Jose California.

Tina Turner performs at Manchester Evening News Arena on March 30, 2009 in Manchester, England.

David Bowie in Concert - A Reality Tour 2004 Toronto

English guitarist Eric Clapton performs onstage on October 6, 2011 in Porto Alegre, southern Brazil.

Sting performs during Sting's Back to Bass tour at Tower Theater on October 26, 2011 in Philadelphia, Pennsylvania.

Mick Jagger of the Rolling Stones performs on the stage at the Olympic Stadium during a concert in Lausanne, 11 August 2007.

Bob Dylan performs from his repertoire of over 400 songs and 50 albums at the 22nd annual Bluesfest music festival near Byron Bay on April 25, 2011.

Inductee Tom Waits performs onstage at the 26th annual Rock and Roll Hall of Fame Induction Ceremony at The Waldorf Astoria on March 14, 2011 in New York City.

Iggy Pop performs on stage during Suikerrock Festival 2011 on July 29, 2011 in Tienen, Belgium.

Ozzy Osbourne performs at the Wacken Open Air on August 4, 2011 in Wacken, Germany.

Steven Tyler of American band Aerosmith performs live on stage during a concert at Arena Anhembi on October 30, 2011 in Sao Paulo, Brazil.

Neil Young performs at the 25th Annual Bridge School Benefit Concert at Shoreline Amphitheatre on October 23, 2011 in Mountain View, California.

Paul Simon performs live on the pyramid stage during the Glastonbury Festival at Worthy Farm, Pilton on June 26, 2011 in Glastonbury, England. The festival, which started in 1970 when several hundred hippies paid 1 GBP to attend, has grown into Europe's largest music festival attracting more than 175,000 people over five days.

Robert Plant of Robert Plant & Band of Joy performs during the 10th Americana Music Association Honors and Awards Show at the Ryman Auditorium on October 13, 2011 in Nashville, Tennessee.

Phil Collins performs at The Prince's Trust Rock Gala 2010 supported by Novae at the Royal Albert Hall on November 17, 2010 in London, England.

Ted Nugent performs at the House Of Blues Chicago on July 20, 2011 in Chicago, Illinois.

Recording artist Sammy Hagar of Chickenfoot performs on stage at Avalon on November 2, 2011 in Hollywood, California.

Recording artist Rod Stewart performs during the launch of his two-year residency show, "Rod Stewart: The Hits." at Caesars Palace August 24, 2011 in Las Vegas, Nevada.

Bono of U2 performs during the U2 360 Tour at New Meadowlands Stadium on July 20, 2011 in East Rutherford, New Jersey.

Stevie Nicks performs at the 15th annual Entertainment Tonight Emmy party presented by Visit California at Vibiana on September 18, 2011 in Los Angeles, California.