Una vez más Jacqueline Bracamontes pasó un tremendo susto, a causa de la afición que tiene su esposo Martín Fuentes a los autos de carreras, esto luego de que su automóvil se impactara contra un muro de contención, en una pista de carreras en Costa Rica, provocando que terminara con una pierna lastimada.
Una situación que él mismo platicó a través de su cuenta de Twitter, explicando lo que había pasado...
"Tuvimos 1 accidente en el warm up,antes d la calificacion, al quedarse pegado l acelerador y pegue al muro a 160kms. Gracias a Dios estoy bn", escribió el piloto mexicano. Agregando que "El saldo fue gracias a Dios el pie roto y uno q otro moreton!!!".
"En el warm up, mi @mft07 tuvo un accidente al quedársele el aceleradror pegado. Gracias a Dios el saldo sólo algunos moretones y el pie roto"
Aquí el resultado del susto... Para variar! Jeje!".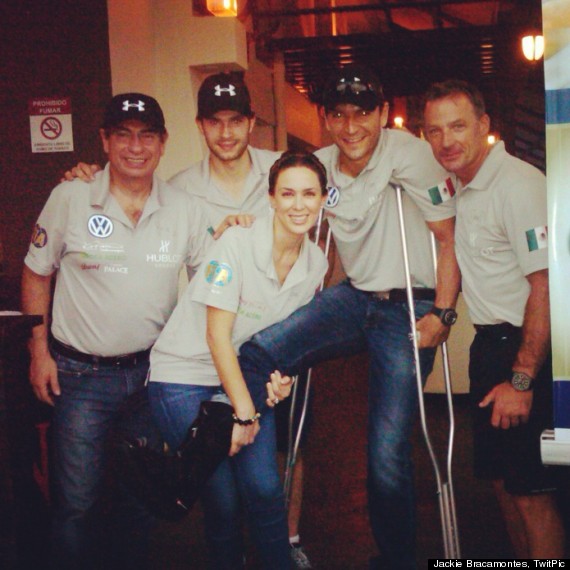 Sin embargo, parece que Jacqueline Bracamontes tendrá que acostumbrarse a vivir con esta afición de su marido que, al menos por unos días prometió no darle más sustos a la bella conductora mexicana...
"Q descansen todos y MUCHAS GRACIAS x sus mensajes y buenos deseos. Prometo no dar + sustos a mi familia @jackybrv este fin de semana.Jajaja ".
MÁS DE JACQUELINE BRACAMONTES EN FOTOS:
SUBSCRIBE AND FOLLOW
Get top stories and blog posts emailed to me each day. Newsletters may offer personalized content or advertisements.
Learn more