WNYC has released a new map, using the NYPD's own data, showing that the department's controversial tactic of stopping-and-frisking New Yorkers may not necessarily be an effective means of taking illegal guns off the street.
The map shows all the street stops that produced gun discoveries in 2011. It also shows stop-and-frisk "hot spots."
The conclusion? The map reveals that areas with the most gun discoveries do not match up with the stop-and-frisk hot spots.
Although 87 percent of those stopped by the NYPD in 2011 were black or Latino, an NYCLU report revealed that "a weapon was found in only 1.8 percent of blacks and Latinos frisked, as compared to a weapon being found in 3.8 percent of whites frisked."
Additionally, the drastic rise in stop-and-frisks in the past decade is disproportionate to the number of guns confiscated: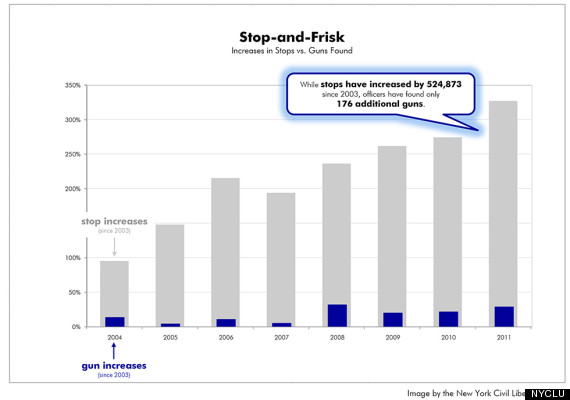 The NYPD, however, sees the statistics as proof that stop-and-frisks are working. Those in stop and frisk "hot spots," they say, according to WNYC, are scared to leave their homes with guns, meaning stop and frisk is working as deterrence.
In May, stop-and-frisk opponents received a major legal victory as a judge granted class-action status to a lawsuit claiming the NYPD illegally targets minorities.
YOU MAY LIKE
CONVERSATIONS
FOLLOW HUFFPOST