Stux Gallery's 'Piping Down The Valleys Wild' Explores Innocence In Contemporary World (PHOTOS)
Stux Gallery's summer exhibition addresses the contemporary understanding of innocence, existing entangled with today's technological and ideological turmoil. Depicting images from childhood to death, the show complicates the myth that one is born innocent and grows corrupted.
"Piping Down the Valleys Wild" gains its title from William Blake's 1789 poem from his "Songs of Innocence and Experience" collection. The poem continues... "Piping songs of pleasant glee, on a cloud I saw a child, and he laughing said to me, pipe a song about a lamb!" In Blake's eyes children are born in a pure state of innocence, a state which is eventually corrupted by the darkness of adult life. "Innocence" and "corruption" were once two separated states of being, a clear distinction which may no longer apply. Stux's exhibition explores the contemporary state of innocence, whether real or illusory. A diverse selection of artists address the complex status of innocence in an age when social, political, religious and personal perspectives all have a different definition of this natural purity.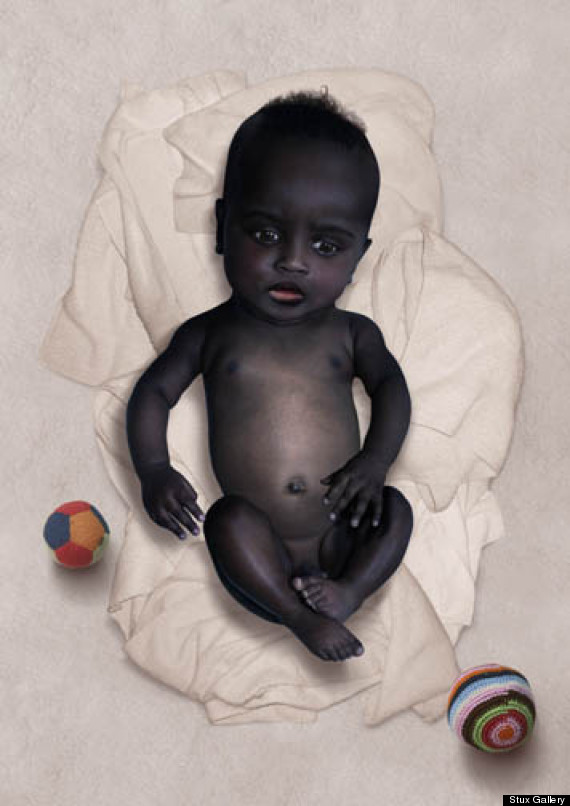 Ruud van Empel creates portraits of nude babies in a bed of pure white. With their dewy skin and oblivious expression, the infants would appear to be the pictures of innocence, however something is awry. Perhaps their skin is a bit too soft, or the viewer's bird's eye perspective a bit too close. Empel's process combines multiple images together to create one composite, nonexistent child, giving the impression of being too perfect. Whether coming from the artist, the viewer or the child itself, there is an unmistakeable whiff of something strange amidst the image of the innocent child.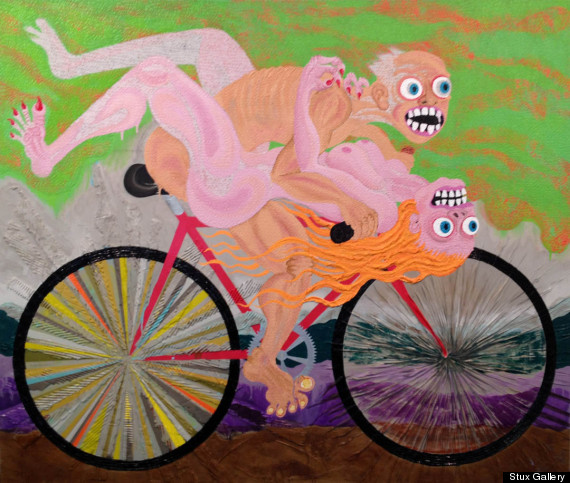 On the other end of the age spectrum, Aaron Johnson's "Red Bicycle" depicts a lewd bicycle ride between two elderly (if not undead) folks. The female's red, claw-like toenails, receding gums and bulging eyeballs are more shocking a sight than her X-rated bicycling position. The unseemly combination of old age and sexual desperation makes for a carnivalesque glimpse at a life with nothing left to lose. Yet the flattened candy-colored cartoonish style adds a playful touch to the scene, almost as if it was imagined in the twisted mind of a child.
Are you as innocent as you think? Check out the exhibition at Stux Gallery before August 3 to find out. You'll see work from Halim Al Karim, James Busby, Sokari Douglas Camp, Miki Carmi, Steven Charles, Margaret Evangeline, Maimouna Guerresi, Akikazu Iwamoto, Anna Jóelsdóttir, Aaron Johnson, Kosyo Minchev, Shimon Okshteyn, Kathy Ruttenberg, Ruud van Empel, Barnaby Whitfield and Manabu Yamanaka.
Piping Down the Valleys Wild
MORE:
Art In America
,
William Blake
,
Aaron Johnson
,
New York Exhibition
,
Stux Gallery
,
Ruud Van Empel
,
Halim Al Karim
,
Sokari Douglas Camp
,
Akikazu Iwamoto
,
Kosyo Minchev
,
Maimouna Guerresi
,
Margaret Evangeline
,
Barnaby Whitfield And Manabu Yamanaka
,
James Busby
,
Shimon Okshteyn
,
Miki Carmi
,
Steven Charles
,
Kathy Ruttenberg
,
Anna Jóelsdóttir