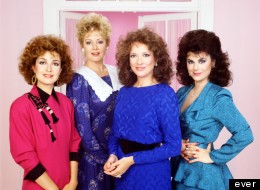 The Civil War may be history, but there are more than a few southern belles around to remind us the South is alive and well on television today, particularly one Deputy Chief Brenda Leigh Johnson.
Before TNT's most charming detective bids her final "Thank You; Thank You So Much," in the final season of The Closer — which premieres Monday, July 9, at 9/8c — we rekindled our love for all the Dixie debutantes of the small screen, whose hospitality, charms, and smart-mouthed sass accented contemporary television in more ways than one.
Feel free to share with us the southern belles you're most sweet on in the comments section, and be sure to vote for your favorites in our slideshow below.
We Declare: The Sassiest Southern Belles of Modern TV (SLIDESHOW)
Bill Compton: "Sookie, don't ever sneak up on a vampire. What are you doing here?" Sookie Stackhouse: "All right, here's the deal. And this is a little embarrassin'. I've never been with a man intimately, for all the reasons I told you about. But, I feel things when I'm with you that make me think and I know this could be a huge mistake, one I will regret forever, but it feels like you're the one that I'm supposed to, you know, do it with. And I'm really nervous about that. And frankly I'm scared to death of you. So can we just get it out of the way already so I can relax and get a good night's sleep? [he draws close to kiss her] J-just don't bite me, Okay?"

Miley Stewart: "This is going to be easier than finding a mullet in a Trucker's convention!" Oliver Oken, Lilly Truscott: "What?" Miley Stewart: "Ya'll wouldn't last ten seconds in Tennessee."

Blanche Devereaux: "Ah! Look at the shameless way she's flirtin' with him... Dis-gustin'!" Rose Nylund: "You flirted with him." Blanche Devereaux: "I'm from the South. Flirting is part of my heritage." Rose Nylund: "What do you mean?" Dorothy Petrillo-Zbornak: "Her mother was a slut too."

Calleigh Duquesne: "Hi. Calleigh Duquesne. Don't ask how I spell it. Southern." Catherine Willows: "Catherine Willows. Southern... Vegas."

Brenda: "I'd like to start with you, Ms. Powell. I'd like to say how sorry I am that I was unable to ignore your general level of incompetence in the wrongly obtained conviction in the case of Bill Croelick. And I'm sorry if you felt hurt and defensive about putting a man on death row for the wrong crime, and I certainly hope that that will never, ever happen again. Agent Jackson, I deeply regret that the FBI handed over two million dollars to a man on a terrorist watch list without the capacity to trace it, or managed to follow him for months without knowing his wife was having an affair with a doctor, and I hope you do much better in the future. Captain Taylor, I suppose I should apologize to you for not having been born in Los Angeles, but having seen you work up close now for several months, I can honestly say that try as I might, I can't think of any fair and reasonable system on earth where I wouldn't outrank you. There. I hope that clears everything up."

[Charlotte has just taken the pregnancy test and is waiting for the results with Cooper] Charlotte: "Now, all we have to do is wait." Cooper: "Come on. Little Walter?" (he pretends to be holding a baby) Charlotte: "Are you trying to be funny?" Cooper: "No, that was my grandfather. He was a piano tuner. Maybe he'll play an instrument, maybe the trumpet." Charlotte: "Please. It'll be a girl. Marjorie." Cooper: "Your grandmother?" Charlotte: "My horse. Last animal I ever had. I was 15. She broke her ankle and we had to shoot her."

Barbra Jean: "Aw, there's my Reba-Rooba-Roo!" Reba: [cheerfully] "And if you all me that again and I'm gonna slap the blonde right off ya!"

Elena Gilbert: "No, I'm not okay with any of it. I'm not gonna cry about it either. Honestly, I'm not gonna be one of those pathetic girls whose world stops spinning because of some guy."

Wade: "Lemon, another beer." Lemon: "You snap those fingers at me one more time Wade, and I'll swear to God I will chop them off that dainty little hand of yours."

Carlene: "Cleavage makes your cross hang straight."

Savannah: "I'm a winner by nature."

Sam Seaborn: [speaking about the Equal Rights Amendment] "How can you have an objection to something that says..." Ainsley Hayes: "Because it's humiliating. A new amendment we vote on declaring that I am equal under the law to a man, I am mortified to discover there's reason to believe I wasn't before. I am a citizen of this country; I am not a special subset in need of your protection. I do not have to have my rights handed down to me by a bunch of old, white, men. The same Article 14 that protects you, protects me, and I went to law school just to make sure."

Luanne: "I can't live in a beer can, uncle Hank! And I can't live in the trailer 'cause it's been tipped over!"

Phaedra: "I'm the ultimate southern belle. I get what I want."

Suzanne: "You know, I'm sorry, but I don't think we like your tone of voice. Who do think you're talking to? For your information, we are the Sugarbaker sisters of Atlanta. We had people living here long before it burned. Our great great grandfather was Robert E Lee's roommate in college. Our other grandfather helped write the Georgia constitution. I, myself, have stood in the rose garden with Jimmy Carter. So, even if we do, on the particular day, happen to have our head temporarily stuck in a fence, we are not going to take any crap off some 2-bit low level bureaucratic usherette."

Paula: "Baking is big in the South--whether it's a biscuit or a roll, we love something in our hand to put some butter on, or to sop up pot liquor."

Geologist: "Mr. Clampett, you're a very rich man!" Jed Clampett: "How big a rock did you bean him with?" Elly May Clampett: "No bigger than a hedge apple."

Sue Ellen Shepard Ewing: "Tell me, J.R., which slut are you going to stay with tonight?" JR Ewing: "What difference does it make? Whoever it is has got to be more interesting than the slut I'm looking at right now."