Welcome To The Age Of Non-Profit City Government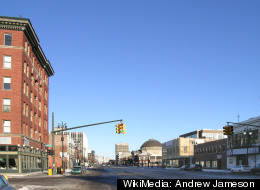 Sue Mosey spends a lot of time telling stories. When I first met her, she breezed through two hours of narration about the behind-the-scenes practicalities of cultivating a vibrant center in the city of Detroit, a story she is clearly well-practiced at delivering to the many national journalists who come to her with questions.
A few days after our meeting, I saw her again at Fourteen East, a Midtown café that opened one year ago after Mosey inspired the owner to host her new venture on Woodward Avenue, Detroit's central corridor. Mosey was at the café to pose for photographs before meeting a potential funder for lunch, where her strategic storytelling was again called upon — this time, to inspire concrete commitments for the non-profit that Mosey leads, and which, in turn, is headlining the city's revival.