The confrontation centered around Wojnarowicz has awakened much of contemporary culture to the impact of the gay artist's powerful body of work, and "Fire in the Belly" seeks to highlight this oft-ignored yet integral figure. The book is a biography of the artist's life written by columnist and art reporter Cynthia Carr. Carr developed a personal friendship with the artist, whom she'd met in 1982 when he walked into the Artforum office where she worked. Their chance meeting was before Wojnarowicz made a name for himself on the New York arts scene, but even then she knew he was a force to be reckoned with.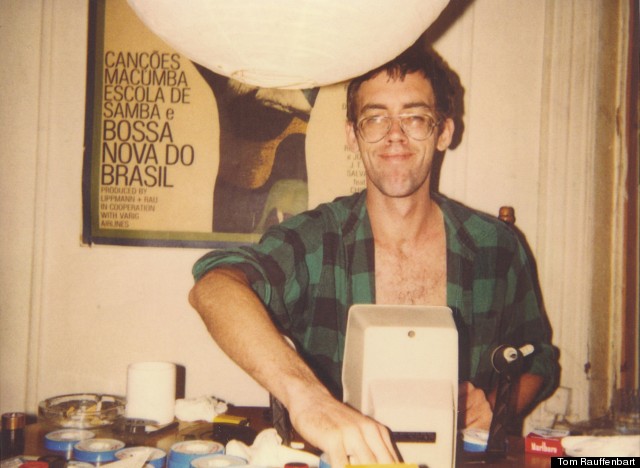 Photo credit: Tom Rauffenbart
Carr's book searches into the depths of the artist's life before the Hudson River piers. She details Wojnarowicz's dark and abusive upbringing and his subsequent years hustling on the streets of a then much seedier Times Square. While she takes her time narrating his Paris adventures and the young man's burgeoning fascination with the poet Arthur Rimbaud, the account picks up momentum when the the timeline reaches the East Village. It was there in the late 1970s that the artist began photographing men with his signature Rimbaud masks and experimenting with super-8 film techniques. He turned to a wild array of media -- paintings, performance, sculpture -- richly documenting the gay community and the vibrant life of the Hudson waterfront.
While Wojnarowicz became a leading figure of this new inclusive, artistic community in the East Village, his work was still not entirely accepted in the New York City gallery network. At the time, he was often contrasted to his contemporary Keith Haring, an artist whose work celebrated the pop side of sex and street life. Carr refers to this comparison in the biography, stating: "David complained that, during his first show, someone at the Milliken Gallery had said to him: 'Why can't you be like Keith Haring—full of fun?' David's work was full of sex and violence—politics expressed at the level of the body. He painted distress. Soldiers and bombers. Falling buildings and junkies."
As Carr points out, Wojnarowicz's depictions of East Village art and the developing AIDS crisis darkened as he witnessed the deaths of many of his closest friends, including his mentor, photographer Peter Hujar. He was also affected by his own diagnosis, and his identity as an artist became enmeshed with his identity as an AIDS activist. Wojnarowicz faced his own horrors and that of his peers with anger, taking aim at Catholic leaders and conservative politicians who chose to disregard the AIDS crisis and the gay community in general. The artist never backed down when confronted with horrible truths; instead, he put a mirror up to the world and made us look closer. He will be remembered for his advocacy and for his passion -- two traits becoming in an artist who wants to shake things up.
'A Fire In My Belly: The Life And Times of David Wojnarowicz'
SUBSCRIBE TO & FOLLOW CULTURE SHIFT
Every Friday, HuffPost's Culture Shift newsletter helps you figure out which books you should read, art you should check out, movies you should watch and music should listen to. Learn more