In a shocking confrontation caught on camera, a Los Angeles Sheriff's Department (LASD) deputy appears to stomp on a suspect's head -- even though the suspect is already lying down on a downtown Los Angeles sidewalk. The video above shows the suspect's head hitting the pavement with a thud.
The violent incident happened after Alexis Husmario Torres, 31, allegedly grabbed the arm of a woman as she got out of her husband's car and groped her chest Friday morning. After her husband pointed out the suspect to two nearby deputies, Torres was uncooperative and resisted arrest, according to police.
As depicted in the NBC video above, when there were two deputies holding down the suspect, one deputy elbowed the suspect in the head two or three times. Then, when there were three deputies holding the suspect down, the same deputy stomps on the suspect's head with his boot.
That deputy, a 24-year veteran, has been relieved of duty with pay while the police investigate how officers handled the situation, the Los Angeles Times reports. "We take this very seriously, and we are going to get to the bottom of exactly what happened," Sheriff's spokesman Steve Whitmore said. Police are investigating the video of the confrontation, which was filmed by a Telemundo crew who happened to be downtown for another story.
Retired FBI special agent James Graham, who investigated allegations of police abuse for more than 20 years, told NBC that he thinks stomping the suspect's head was excessive.
"It appears to me there was sufficient law enforcement present to keep him under control without the kick to the head," said Graham.
Torres is being held on $20,000 bail in a unit for persons with possible mental illness in the LA County jail, according to police. He was booked on charges of sexual battery, battery on a peace officer and possessing counterfeit identification. Both the deputies and suspect incurred minor injuries during the incident and were treated at a nearby hospital.
Here is Torres after his arrest: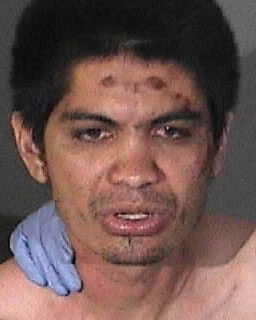 If you have any information about this or similar incidents, please contact Sheriff's Transit Services Bureau investigators at (323) 563-5000. Or, if you wish to remain anonymous, call "LA Crime Stoppers" by dialing 800-222-TIPS (8477), texting the letters TIPLA plus your tip to CRIMES (274637), or using the website http://lacrimestoppers.org .
Earlier on HuffPost:
Click through violent LA police arrests caught on tape from the 1992 Rodney King video to the present:
Loading Slideshow
Rodney King

In this 1991 video, <a href="http://www.cnn.com/2012/04/28/us/rodney-king-profile/" target="_hplink">Rodney King is beaten</a> by a group of police officers. It is known as one of the most infamous police brutality cases, and the acquittal of the officers involved, one year later, sparked the <a href="http://www.huffingtonpost.com/news/la-riots/" target="_hplink">Los Angeles riots</a>.

William Cardenas

In this 2006 video,<a href="http://www.washingtonpost.com/wp-dyn/content/article/2006/11/10/AR2006111001666.html" target="_hplink"> William Cardenas is seen being beaten by two LAPD officers</a>. Cardenas was reportedly resisting arrest after being seen drinking a beer on the sidewalk. The use of excessive force was deemed appropriate, but led to national news coverage of Copwatch initiatives.

May Day Melee

This 2007 video was filmed at a May Day rally in MacArthur Park where undocumented immigrants were rallying for amnesty. Approximately 600 LAPD, both in helicopters and on the ground, began to descend on the area after declaring the event an unlawful assembly.

May Day Melee

In response to the excessive force used by the LAPD at the May Day Melee, Mayor Antonio Villaraigosa personally oversaw the investigation and Police Chief William Bratton announced an attempt at reorganizing the LAPD. The city was ordered to pay <a href="http://articles.latimes.com/2009/feb/05/local/me-lapd-settlement5" target="_hplink">$12.85 million in a class action lawsuit</a> to the people who were hurt.

City Bus Abuse

From the <a href="http://www.youtube.com/watch?v=vsW23kbVLs0" target="_hplink">UnivisionNews1</a> channel on YouTube: <blockquote>A cell phone camera caught the moment when an LAPD officer struck a mentally ill woman aboard a city bus. They were called in after she displayed erratic behavior. Civil rights activists argue he used excessive force and demand an investigation.</blockquote>

Hollywood Blvd Counter-Protest

In this 2008 video, counter-protesters along the sidewalks gathered on Hollywood Boulevard as the Minuteman civilian border patrol group marched in the streets. When counter-protesters tried to join in the march, police stopped them because they did not have a permit, while the Minutemen did. ABC Los Angeles notes that sometimes, <a href="http://abclocal.go.com/kabc/story?section=news/local&id=4349432" target="_hplink">the police used force</a> to keep counter-protesters from the street.

Diop Kamau

In this video from <a href="http://policeabuse.com/" target="_hplink">PoliceAbuse.com</a>, we learn about Diop Kamau (also know as Don Jackson), a former Police Sergeant Detective with the Hawthorne Police Department who went undercover to expose racism and violence in his own police department. Kamau went on to become the founder and executive director of the Police Complaint Center and the CEO of PoliceAbuse.com. Kamau has made it his mission to identify, investigate and reform police misconduct.

Donovan Jackson

In this 2002 video by Mitchell Crooks, officers from both the LA County Sheriff's Department and the Inglewood Police Department are seen using excessive force against Donovan Jackson, a 16-year-old who suffers from a developmental disability. Jackson's father's car was unregistered, which is why the police stopped them. The video begins with Donovan face down, handcuffed on the asphalt. Moments later he is unconscious due to the way the officers were pulling on the chain he was wearing. This case had major reverberations throughout Inglewood. Following the trial of the police officers, two white police officers filed a discrimination suit against the city for being treated more harshly than their black counterparts. <a href="http://articles.latimes.com/2005/mar/08/local/me-donovan8" target="_hplink">They won $2.4 million</a>. <a href="http://query.nytimes.com/gst/fullpage.html?res=9C04E3DC163CF93AA35750C0A9639C8B63&ref=donovanjackson" target="_hplink">Donovan's family eventually settled</a> with the City of Inglewood for an undisclosed sum. The City of Inglewood and LA County never admitted any wrongdoing or liability.

Kelly Thomas

In this 2011 video,<a href="http://www.huffingtonpost.com/2011/09/21/kelly-thomas-death-police-charged_n_974237.html" target="_hplink"> Kelly Thomas is seen beaten to death</a> by members of the Fullerton Police Department who were responding to the scene after someone called in a robbery. Officer Ramos can be heard saying, <a href="http://documents.latimes.com/charges-kelly-thomas-police/" target="_hplink">"Now see my fists? They are getting ready to fuck you up,"</a> to Thomas before beating him. <a href="http://www.huffingtonpost.com/2011/09/21/kelly-thomas-death-police-charged_n_974237.html" target="_hplink">Ramos was later charged with murder</a>. Cpl. Jay Cicinelli faces manslaughter charges. A trial is pending.